For many college students across the country, Spring Break is a time to head to the beach and soak up some sun, but that wasn't the case for a group of UC Berkeley students who instead decided to solarize their Spring Break with GRID Bay Area. Seven UC Berkeley undergrads from the Student Environmental Resource Center (SERC) participated in their first ever solar install hosted by GRID Bay Area. Instead of working on their tans, these students spent a week volunteering, helping to install solar for a low income family in East Oakland, interviewing recent GRID clients, reorganizing our warehouse, and much more. And if that doesn't seem like enough, this enthusiastic group also raised over $2500 to support GRID's work in the Bay Area.
GRID's Solar Spring Break, in partnership with the World Wildlife Fund, gives college students from around the country the opportunity to spend their spring vacation week installing solar in underserved communities with GRID. The seven student groups who came out with GRID across California and Colorado this year walked away with renewed enthusiasm for renewable energy and with gratitude for their time with the families and the knowledge gained during their trips. "Coming here I never expected to have as much fun combined with education in one experience," one student wrote in a thank-you card. "I don't know that there's any classroom that's facilitating such life changing conversations as what's going on here. It's priceless."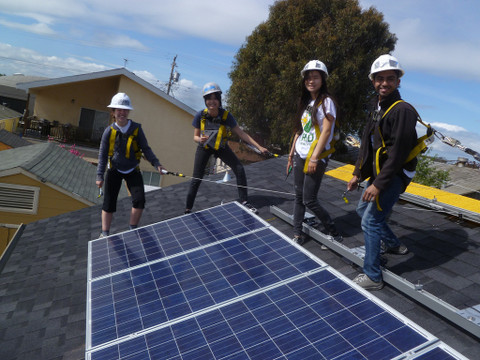 As we tip our hats to these hard-working, conscientious students who participated in the first ever Solar Spring Break in the Bay Area, we want to extend an invitation to you to further your support of GRID. For starters you can spread the message to potential clients by reaching out to family, friends, or neighbors who may be eligible for low-cost solar through GRID. Check out the eligibility requirements and spread the word. If that's not up your alley, please consider giving a small monthly donation to GRID.
All the support you provide helps local families in need reduce electricity costs while producing clean renewable energy and providing free solar training opportunities for those seeking employment. A little support goes a long way. With your help, and the help of future Solar Spring Break groups, we can continue to brighten the lives of families in need and provide a cleaner environment for future generations.