Dorothy Stallworth has seen a lot in the more than 40 years she has spent living in Menlo Park. Raising three children alongside her late husband, a former local law enforcement agent, Dorothy recalls changing neighborhoods, violent crime and, through her own long career at Stanford, even national celebrity visitors like Dizzy Gillespie and Sandra Day O'Connor. But never, she shared, has she experienced anything like GRID Alternatives' 12th Annual Solarthon, which recently filled her small Belle Haven neighborhood with more than 120 volunteers, job trainees, and partners on Saturday, June 10th.
"This is something unique - never have I felt something like this, where the community is really rallying around me, helping me like this with my energy bills," Dorothy told the Solarthon attendees packed into the gym of the nearby Belle Haven Elementary School.
Dorothy's was one of 9 homes who all went solar all in one day as a part of GRID's annual Solarthon event in Menlo Park. Solarthon is a solar installation block party and fundraiser, where volunteers come together to install solar for a community that needs it most. At this year's event, we installed more than 30 kilowatts of clean, solar energy, which will save these families over $284,000 over the systems' lifespans! The systems will also offset more than 570 tons of greenhouse gas emissions - the equivalent of planting nearly 13,500 trees.
In addition to these impacts, this event was filled with incredible people, from the volunteers and sponsors who spent their Saturday giving back in the community, to the families whose gratitude and excitement truly set the tone for an amazing day. Each motivated to participate in their own way, every one of the 9 families helped make Solarthon special.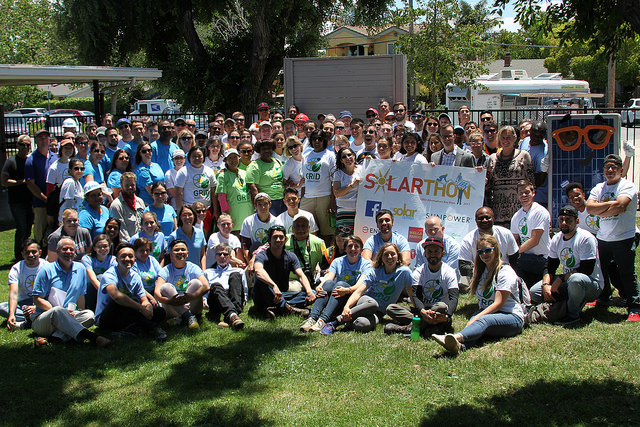 For Azucena Sandoval and Wilfrano Contreras, Belle Haven residents whose home also went solar at Solarthon, the real excitement was even greater than the cost savings. "We are excited to get solar on our home because it enables us to use the power of the sun to be part of the solution, and not the problem," they shared. "I had thought about getting solar energy but it was too expensive. With the money I save on electricity bills I plan on buying a bicycle in order to drive less."
Solarthon was a perfect reminder that together, we can truly make the the future more sustainable, more equitable and, with a little help from our friends, more fun too. Additionally, thanks to our awesome sponsors and fundraisers, Solarthon helped raised over $70,000 to support GRID's work to serve more families like Dorothy's and Azucena's! Solarthon sponsors included: Facebook, SunPower, Enphase, Wells Fargo, Jinko Solar, Flex, Google, Ironridge, NEXTracker, Northland Controls, NRG, Sunrun, Burnham Energy, and Indaspec. Many special thanks as well to our community partners at Menlo Spark.
A huge thanks to everyone who made the event such a success! To see some of the awesome photos from around the event, visit our Flickr album here!