The steep, 36° pitched roof loomed overhead, but would prove no match for the eager volunteers waiting to ascend. Three teams of SunPower volunteers gathered below, strapping on harnesses and passing around hard hats, excited to begin the day's work installing solar with GRID.
The 23 SunPower employee volunteers were on site to help bring solar to Marcus Garvey Commons--a 22-unit multifamily development in West Oakland. The development provides low-income families with below-market rate affordable housing in a city where such accommodations can be hard to come by.
Participants were excited to make an impact for the families of Marcus Garvey Commons, while simultaneously bonding with co-workers and getting hands-on with a technology they work closely with every day, but that few had ever actually installed. They worked side-by-side with GRID staff throughout the day to install solar on three units of the multifamily development, learning everything from electrical wiring to placing panels to connecting the microinverters.
"I work in business development at SunPower, so this is the first time I've ever actually touched the technology," said Arthur Kegels, a first-time GRID volunteer. "It's actually quite mind-boggling how the smallest things come together to make the system work. It's fascinating!"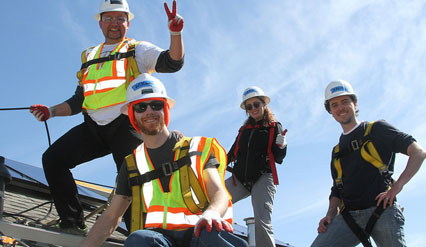 Once interconnected, the 31-kilowatt system will generate nearly $300,000 in savings over its lifetime, helping to offset electricity costs for the development's common spaces, and benefitting the residents via virtual net metering.
"Thank you for the awesome install yesterday," wrote Cecilio Aponte of SunPower, in an email after the installation. "I left having a huge appreciation for solar roof work, a few new skills and some new connections to my co-workers! A good day in my book."
See more photos from the installation here!
---
SunPower has been a GRID Alternatives supporter since 2006, and a major equipment partner since 2012. SunPower employees have volunteered over 3,800 hours of their time to install solar with GRID for low-income families.