Tuesday, January 19, 2021
Ashley Christy's been an active part of the transition to better outcomes for economic and environmental justice communities since 2017—initially as GRID Alternatives Greater Los Angeles Deputy Director, and subsequently as Interim Executive Director at GLA. Starting this month, we're officially thrilled that she'll be taking the lead role in implementing GLA work as Executive Director for the region. A brief statement from Ashley is below.

Dear Friends of GRID Alternatives GLA,
I am excited to announce that I am the new Executive Director of GRID GLA! I would like to take this opportunity to introduce myself.
I'm fortunate to have started with GLA in 2017 as the first Deputy Director for the region, bringing operational expertise to the organization in partnership with our staff and the GLA Board of Directors. Although I have been in the solar industry since 2010, I could see back then that GRID offered something completely different – the epitome of the word community – and I wanted to be a part of it right away. As a native Angeleno who comes from the communities that we work in, I am excited to be able to effect change and advance our mission of bringing about equitable access to renewable energy through jobs, solar, and clean mobility.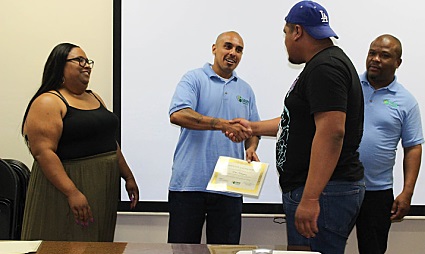 Today, it's an honor to lead the team into 2021 and beyond as we prepare to navigate and execute on all of the hard work we have done in the last few years. The exciting initiatives ahead of us include several projects through the Solar on Multifamily Affordable Homes (SOMAH) program, solar partnerships with Habitat for Humanity and Homes 4 Families, hybrid training programs, Transformative Climate Communities (TCC) programs in Pacoima and Watts, as well as continuing our successes in residential communities all over the greater Los Angeles area. Having a great team and a collaborative approach is how I hope we will get there!
As we continue to navigate through the COVID-19 landscape, I want to continue to be agile throughout all of our challenges. These are the times when our mission is most critical. We all know that Los Angeles' communities of color are most affected, and I am hoping that our efforts will bring relief to many of the people who need it most.
As soon as I am able, I hope to have many opportunities to get to know you – our donors, volunteers, partners, and neighbors – and continue to develop relationships over my tenure. Thank you for your continued support of GRID Alternatives Greater Los Angeles, and I look forward to seeing you all soon on a roof, at a job fair, or virtually (for now).
Ashley Christy
Executive Director
Pronouns: She/Her/Hers
---