On February 12, the Solar Foundation released the 2018 National Solar Jobs Census, providing an in-depth look at the state of the U.S. solar industry. The report found that 242,000 people are employed in solar, a 3.2 percent decline from 2017 that is largely attributed to tariffs imposed by the current administration and a lack of supportive policy. Still, the U.S. has added 150,000 solar jobs since 2010 and can work to reverse the current downturn by promoting strong clean energy policy and workforce development programs at the state and city level.
When discussing these numbers, it's easy to get lost in the data and forget that they represent real people. Steven Donerson and Vernon Davis, both graduates of our Solar Works DC program, are two such individuals who work in the solar industry.
Vernon was a maintenance worker who also worked as a caregiver for seniors before he decided to apply to Solar Works DC. The program caught his eye, he said, because "I'm about change, I like making changes and I've always loved working with my hands and thought this was something I can get into."
After completing the training program, Vernon was offered a job from two local solar companies but he decided instead to take a position at GRID Mid-Atlantic as an installer for our multi-family team. He enjoys the larger projects that he gets to work on now and wants to continue gaining more experience before pursuing different roles, such as project management. In the meantime, he appreciates the impact he has on people in his community by helping them save money on their electric bills. "It's all about making a positive difference," he says.
Steven also decided to join GRID Mid-Atlantic's multi-family team after graduating from Solar Works DC. Like many other people, Steven's life was deeply affected by the 2008 economic recession.
"I pretty much lost my whole way of life and the end result was that I was divorced and I was homeless," he says, adding, "Before I found solar, I was still reeling from the recession."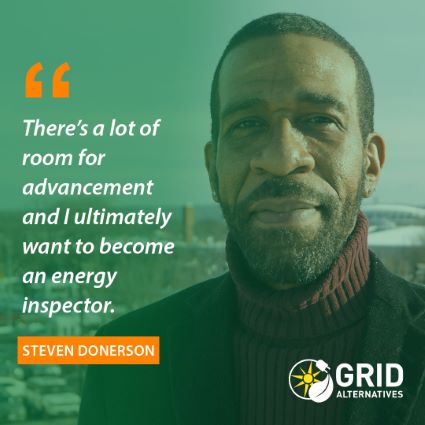 "I see GRID has the same mindset in being community-oriented. I just want to make a brighter future for the residents of this District," he said when asked about why he wanted to join the GRID Mid-Atlantic team.With a steady income, Steven is finally able to rebuild his life. He's not only focused on his own development, but he's also invested in the people around him.
In 2019, the solar industry is expected to grow. New policies, like D.C.'s new 100% Renewable Portfolio Standard and Maryland's pending Clean Energy Jobs Act, have the potential to bring thousands of good-paying solar jobs to the area. GRID's hands-on training programs, like Solar Works DC, support solar industry growth and ensure these jobs are reaching people with fewer financial resources and more barriers to employment.
As we transition to a clean energy future, it's important that no one gets left behind.There are many more people like Vernon and Steven out there living in underserved communities who are un- or underemployed and are seeking to better their lives, who want to improve their communities but have difficulty accessing opportunities to do so. This is why workforce development programs are so important.