Inland Empire
Inland Empire
GRID Inland Empire positively transforms the lives of residents and communities by providing access to clean, renewable solar energy to low income families and hands-on job training to help workers enter the solar industry! Be a part of the clean energy transition- become a client, volunteer or make a donation today!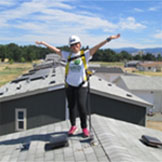 Your gift puts solar power and solar jobs where they are needed most.
Connect With GRID
Follow us on social media:
GRID Alternatives Inland Empire Office
1660 Chicago Ave, Suite M21
Riverside, CA 92507
News From the Field
Debbie Schow attended high school in Twentynine Palms, moved away and returned decades later.

David Correa and his family have lived in Ontario since 1997. David was born in Mexicali, Mexico (on the border of Imperial Valley) in the City of...

GRID Alternatives Inland Empire (GRID IE) recently broke ground on its largest community-scale solar project to date.

GRID Alternatives Inland Empire would like to thank the Georgia Tech and Duke University students and faculty advisers who signed up for this year's...

The Workforce & Volunteer Department at GRID Alternatives Inland Empire was excited to bring on our second Solar Construction Cohort in...