Inland Empire
Inland Empire
GRID Inland Empire positively transforms the lives of residents and communities by providing access to clean, renewable solar energy to low income families and hands-on job training to help workers enter the solar industry! Be a part of the clean energy transition- become a client, volunteer or make a donation today!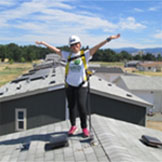 Your gift puts solar power and solar jobs where they are needed most.
Connect With GRID
Follow us on social media:
GRID Alternatives Inland Empire Office
1660 Chicago Ave, Suite M21
Riverside, CA 92507
News From the Field
GRID's Women in Solar Program (WE Build) promotes a diverse and inclusive solar industry that includes women by providing valuable hands-on job...

Safety first is a high priority at GRID installations and throughout the organization.

GRID Alternatives Inland Empire (GRID IE) Workforce & Volunteer Team has many educational partners. One such partner is Desert Hot Springs High...

Tammy Reilly was born in Germany and brought to the States at five years old.

Zachary Cain earned the title as 'Volunteer of the Year' in February of this year at our Volunteer Appreciation event.