The following post is the first part in a series on UC Berkeley's Solar Spring Break with GRID Alternatives. These dedicated students raised money to fund their own volunteer installation experience with GRID, and spent the week learning to install solar and meeting industry leaders. Thanks to Angela Shen, our first guest blogger, for sharing a journal that she kept of her Solar Spring Break experience!
Day 1
It's always exciting to embark on a new adventure--especially when you are pursuing something you care deeply about and you believe will benefit others. Leading GRID's Solar Spring Break again felt comfortable--like meeting up with good friends for tea--but there's always more to learn!
Walking into GRID's office, we were greeted by Bret, who was just as friendly as I remembered him. He walked us through a brief introduction exercise, which was fun because we hadn't been able to meet completely as a team before today, and I felt like I learned some interesting things about everyone! After the volunteer orientation, we interviewed a GRID Alternatives client. He was a young graduate working in Oakland, and his house was filled with tools of environmental work going on in various stages. He was very knowledgeable about how solar power works and proudly led us to the dashboard that showed how much electricity each panel generated. We learned about the specifics of his system and what he loved most--hint, the microinverters. And while we were leaving, he cheerfully waved us goodbye and encouraged us to tell more people to get solar panels installed. Don't worry—we've got your back!
Day 2
WOO! This was the first day of our install! Nate, the homeowner, was very welcoming, offering us tea and coffee as the day was quite early. Bret had gotten us donuts, so of course I ate as many as I could before we had to start using our hands. We received a thorough safety introduction from Jeff, the install lead, and then split up into two teams: the ground team and the roof team. Since I had gone on the roof on the first day last year, and I wanted others this year to get the full experience, I stayed with the ground team. In the morning, we got to experiment a little with different power tools: drills, saws, etc. Nate brought us delicious burritos and chips from a local Mexican restaurant, and we ate in their cute backyard. After lunch, we prepped the rails by putting on the mid-rail clamps and helped hoist them up to the roof. They say that you get closer as a team when you eat and sweat together (not necessarily at the same time), but I definitely believe it's true. We had a great day learning as a team and I can't wait to see the finished product tomorrow!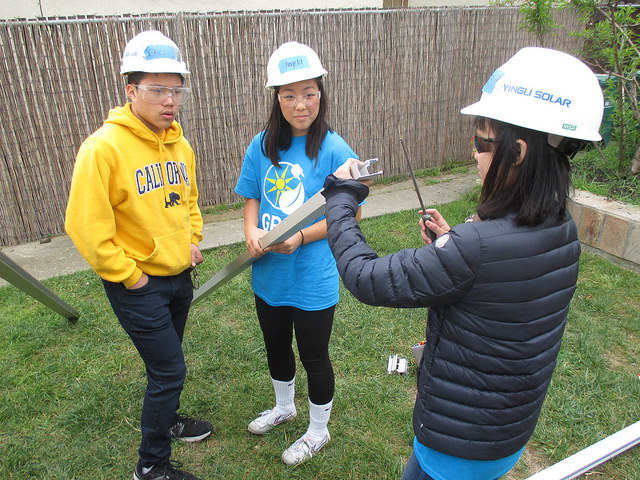 Day 3
I climbed up the ladder with gusto, ready to hoist up new panels, attach them to the microinverters set down by yesterday's roof team, and tighten them to the rails. That's when I realized something...this roof was way steeper than last year's. I felt a slight burning sensation in my shins as I leaned forward, attempting to find a balanced stance that would allow my worn-out Feiyues (a Chinese brand of wushu shoes) to gain some grip on the sandpaper-like roof tiles. I kept thinking back to the physics I had learned and wishing I knew the coefficient of friction for the roof so I could estimate angles and forces. Jeff, maneuvered the steepness with ease, as years of rooftop work gave him a mountain goat sturdiness. I could see that when you do great work, part of the mastery is developing a sixth sense for how to get the job done, so I remained calm and adjusted my weight by feeling with my feet, not equations.
I can't help it--I just love seeing the cheery glint of solar panels nestled cozily next to each other. I wanted to stay up on that roof forever, but I had already made up my mind to switch to ground team and help set up the junction box so the rest of the team could check out the new bling we added to the house.
Lunch again was delicious as we lolled in wrought-iron chairs in the backyard. The rest of the set up and clean up was quickly finished, and before long, we had to say goodbye. I could see a pattern emerging: saying goodbye to these solar systems was like saying goodbye to puppies you fostered. They were never yours, even though you helped them grow, and you knew they would make the world a better place with more purpose and curiosity.
Day 4
Today was the day we visited SolarCity and Clean Power Finance! I was really excited about this field trip for three main reasons:
We didn't have the opportunity to visit other industry professionals last year, and this would allow for some great insight into the culture of the companies and what types of careers people lead.
It would temporarily relieve my guilt for not looking for jobs yet (I like to live in the moment…)
Who doesn't love field trips?!
SolarCity was big and had a startup feel to the office layout. We were ushered into a large conference room and had the chance to learn from and ask questions to several members across many sectors of the firm. They offer a comprehensive experience in terms of going solar, and I appreciated that, since many people often look for any inconvenience to not adopt a more environmental lifestyle.
Just a few blocks of walking took us to Clean Power Finance. We learned a lot about the financing of solar, and even met several Cal graduates! Our conversation really got me thinking about how financing could be solved in Oklahoma, where I grew up, and one of the centers of oil and gas. Summer would be the perfect time to hatch something up, and I was thankful that they offered to stay in contact through email if we ever had questions.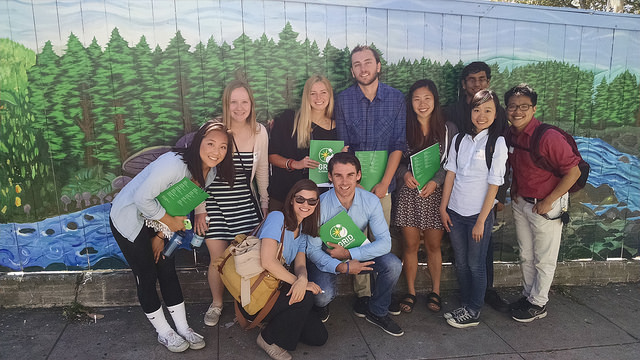 After today, I have come to accept the fact that I will most likely be wearing business casual during the weekdays if I intend to work as an analyst or policy researcher in the solar industry. However, I think the disappointment (long live Nike shorts and large graphic tees!) will definitely be overshadowed by the fact that everyone is enthusiastically, determinedly, and creatively building a better environmental legacy--and I want to be a part of that.
Day 5
Ahh, the last day, always so bittersweet. We started off the day at GRID Alternatives, as usual. Our activities that day were to help out with cleaning up the warehouse (the kid inside me was ecstatic) and doing some administrative work for the Oakland office. Bret had set up a fun and competitive (emphasis on competitive) way to get these tasks done: we would split up into two teams of three and battle it out with these challenges to determine the winner. Unfortunately, the team I was on only won one challenge, but we relished the fact that as a whole team, we still got to take home a solar panel (achievement unlocked)!
We wrapped up Solar Spring Break 2015 by sharing a meal at a local Thai restaurant with Bret. It was filled with laughter and friendship, and as we paid, I was secretly on the lookout to see who might be interested in being next year's leader since I was graduating. It is (one of) my dreams to have this program institutionalized for future students as an amazing experiential learning opportunity--and I knew that all of the Golden Bears sitting at the table were more than qualified for this calling, which made me relieved and satisfied. We were well on our way to developing a strong and mutually beneficial partnership!
Stay tuned for more from UC Berkeley's Solar Spring Break with GRID! Thanks to all the students who participated, and special thanks to Jeff Eyet, whose sponsorship made the week possible.