On the chilly first weekend in April, a group of seven women set out for a long drive and a one-of-a-kind experience: GRID's Camp Solar. The weekend would include camping on the beautiful coast, exploring and hiking, local breweries and, most importantly, installing solar for the Soria family in Fort Bragg alongside GRID's Willits-based North Coast team. The team was led by GRID Team Leader and solar industry professional, Ashley Gremel, who organized the group to raise money for a good cause and give back in a community that needs it most.
"I started volunteering with GRID when I moved to California to work in solar after college," shares Ash. "Working with volunteers and homeowners is endlessly inspirational, and time on the job site brings credibility and insight to my career. I love teaching as a team lead and learn something new on every install!"
It's no surprise, then, that the team she organized for Camp Solar were as dedicated and committed as she is. In fact, the team worked together not only to install solar for the Soria family, but also to raise $5,715 to support the project and other families in Fort Bragg! This funding allowed the Soria family's install to move forward, making solar possible where it couldn't otherwise happen. Pretty impressive, right?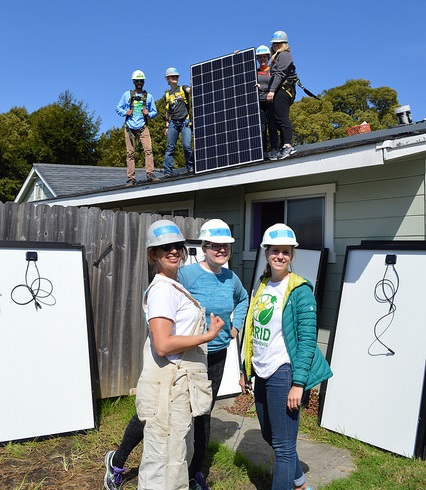 The Soria family is especially excited about their solar savings: they run a daycare out of their house, and see electricity bills each month that have been sky high. Now, with the 4.6 kilowatt system installed by this awesome Camp Solar team, they'll save an estimated $46,000 over the 25 year lifespan of their new solar system! The benefit to the community is pretty impressive too: the system will offset 89 tons of harmful greenhouse gas emissions, the equivalent of planting more than 2,000 trees!
After the install, the volunteers and GRID staff celebrated at a local brewery and ended the night cozy around the camp fire, sharing the impact of the day and their hopes and aspirations for a solar-powered future. Two of the women were even using the event as a way to help celebrate their 30th birthdays - how's that for impactful celebrations?
Do you want to take your volunteering to the next level and have fun at the same time? Email amalyszka@gridalternatives.org to find out more about Camp Solar! You can also see more great photos from this all women crew on Flickr here.