GRID's Women in Solar program works to build a diverse, equitable and inclusive solar industry by providing pathways to technical careers for women*, highlighting the voices of women of color in the industry, and providing national leadership on solar workforce diversity. Women's voices, talents and leadership are needed more than ever to build a strong and sustainable industry - which is currently only 26% women despite the general workforce being 44% women. That percentage gets even lower when you look at hands-on professions and related roles in the trades.
Every fall, GRID Bay Area hosts Women in Solar programming thanks to support from the We Give Donor Circle. Led by our 2018/2019 SolarCorps Workforce Development Fellow, Gwen Chang, 2019 was a full week of Women in Solar programming - 9 total events over the span of 6 days! These included 3 webinars, 2 solar installs, a practice roof session, resume review workshop, networking happy hour, and a women in solar leadership panel discussion. And what a week it was!
Here's some of our highlights:
A total of 73 womxn engaged in 218 hours of hands-on solar training, networking, discussion, and career building events! That is an average of about 3 hours per participant - wow!
Throughout the week, we welcomed 37 new participants to our Women in Solar community!
GRID launched a new partnership with the Family Justice Center, an organization that offers wrap around services for people experiencing domestic violence, and we had at least one woman join us from their program
The womxn helped install for our VERY FIRST solar client from the Clean Cars for All electric vehicle program, powering their new EV with GRID-installed solar
One of the women has already signed up to start her ongoing internship with GRID Bay Area, all under the tutelage of GRID's female Solar Installation Supervisor and all-around bada*s Laura Galavis
Our Women in Solar Leadership panel featured some heavy hitters from across the sector including: Jeanine Cotter (CEO, Luminalt), Noemi O. Gallardo (Sr Manager Public Policy, Sunrun), Ashley Gremel (District Performance Manager, Vivint), Marie Gunter (Commercial Developer, GRID Alternatives), Amaris Lujano (IBEW Apprentice), and Renee Solari (Sr Program Manager, SunPower)
A huge thank you to all of our participants, panel speakers, Gwen Chang, the We Give Circle and everyone who made the week such a success!
*People who identify as non-binary genders and feel they belong in our community of women are invited to participate in our Women in Solar Program.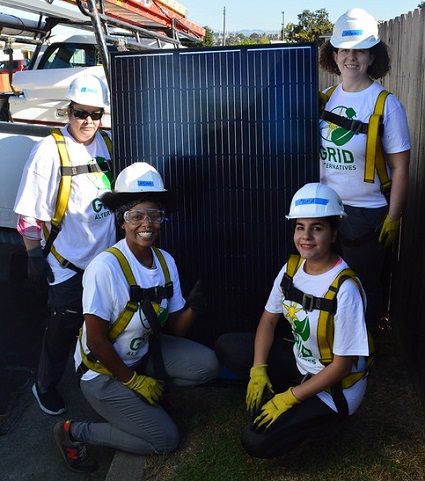 Head on over to Flickr for more photos from the Women in Solar Leadership panel or the Women in Solar install.