In 2018, Cristian Tello heard about GRID Alternatives from a radio announcement. Although he didn't know anything about solar, he was interested in finding out more about a possible opportunity. His current job at a car wash wasn't providing the prospect of upward advancement and solar just might be the thing that he was looking for in a career. With a little investigative work, he found that GRID Alternatives offered a variety of ways to gain skills in different aspects of the solar industry and Installation Basics Training (IBT) was one of them. IBT is a five-week training program that offers participants hands-on installation training to develop their skills and increase employment opportunities. It also provides an opportunity to obtain an Occupational Safety and Health Administration (OSHA) and Red Cross/Coronary Pulmonary Resuscitation (CPR) certification.
Cristian decided to enroll in the next training. He started his five-week course in June and by August he was participating in his graduation with his resume' in hand. He was ready to find a job in the solar industry. Fortunately, a position in the Construction Department of the Central Valley GRID office was opening and about to be posted. Christian decided to apply for the position as SolarCorps in the Construction Department. SolarCorps is a one-year placement at GRID Alternatives that give participants the opportunity to get broad and deep experience in a variety of aspects of the industry. Cristian got the job!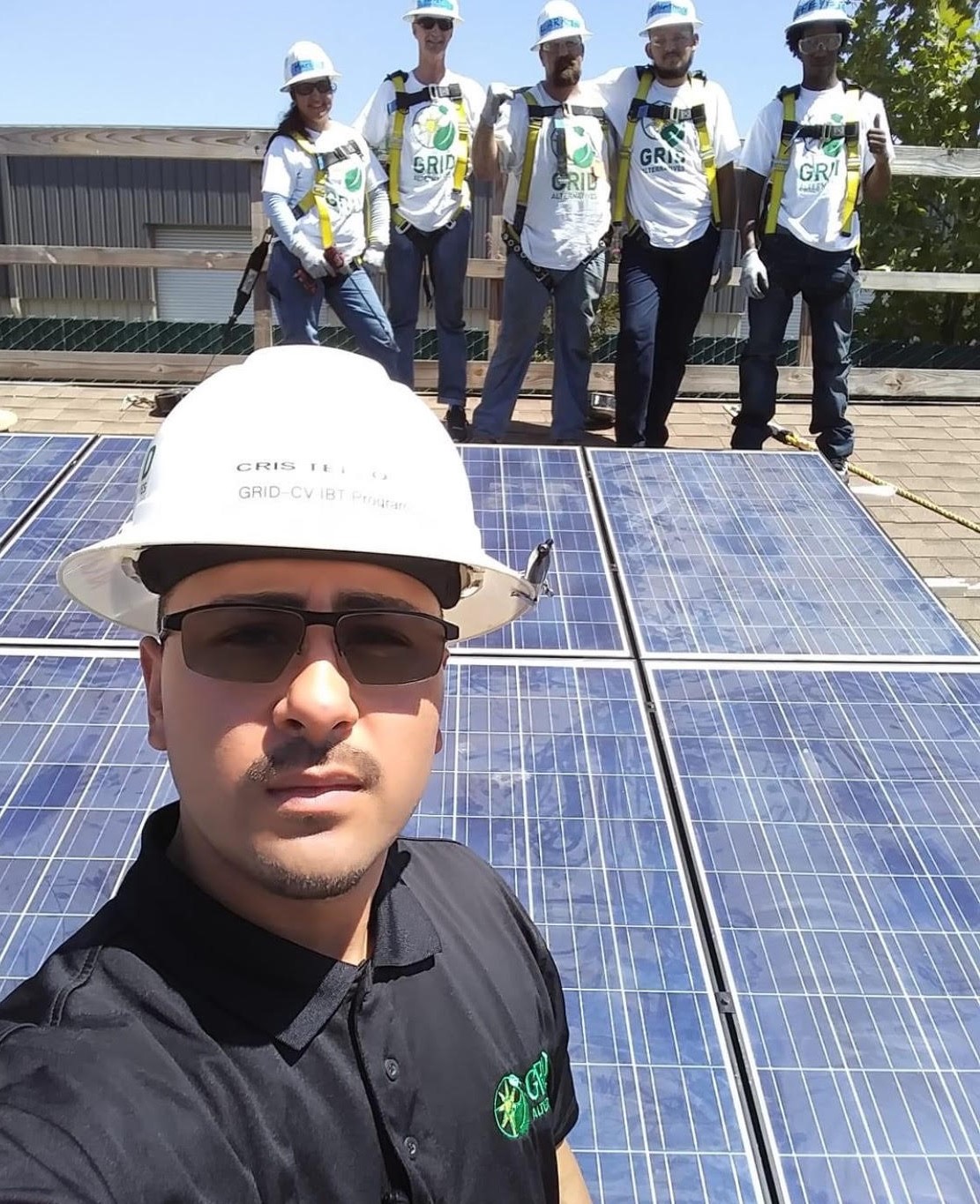 Cristian Tello on solar installation with volunteers
In his year-long placement as a SolarCorps Fellow, he learned as much as he could, obtaining the skills and foundation to make a career in the solar industry. At the end of his time as a SolarCorps, a permanent position became available in the Construction Department, again with GRID Alternatives Central Valley. During his time with GRID, he went through many phases of the various jobs in the Construction Department and eventually was assigned as an instructor in the IBT Program. He was climbing the ladder.
With his upward movement in his career, you may think that he has it made, but an opportunity arose that he couldn't pass up. In September 2020, Cristian was offered a position with another solar company. The position with Citadel Roofing and Solar was as a Superintendent.
Cristian feels that he got where he is with hard work, but he also believes that God brought him to where he is today. Sometimes he wanted to quit, but he stayed the course and excelled.
In Cristian's downtime, he likes enjoying the outdoors, fishing, camping and football with his three kids, but movie night is also on the list of things he enjoys with his family.