Imagine wanting a solar energy system for your home but finding the expense out of your reach. Lupe Flores found herself in such a predicament. Lupe is in her sixties, on a tight budget, living with a disability, providing for her grandson, and paying a mortgage. 
Lupe faced many financial barriers to going solar. Yet, she noticed her neighbors all getting solar panels; Lupe wondered how they did it. She kept an eye out for all solar energy offers, and learned the advantages of solar by reading all the material in her reach. The most significant benefit to Lupe was that solar panels could save her money and produce clean energy. Seeking more information and knowing that there are numerous scams, she knew she had to be careful when selecting a solar installer. 
One flyer mentioned GRID Alternatives' Energy for All Program, from which she could potentially receive solar at no cost. She read it cover to cover, called the number, and was assigned a GRID outreach representative. She found she qualified for the program and signed up. Lupe found the application process easy. Thanks to our partnership with Sunrun, GRID's Energy for All program is able to expand its impact and reach more families like Lupe's.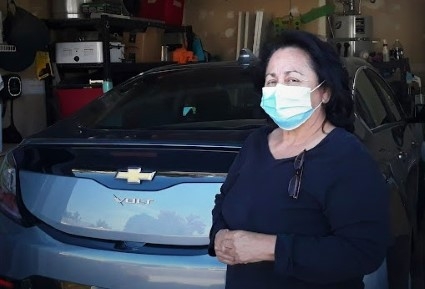 GRID's outreach representative, Bertha, surprised Lupe by offering to enroll her in GRID's electric vehicle (EV) charger program, where she would receive a no-cost EV charger at her home. Her vehicle at the time was an older gas model, and she was interested in an upgrade. She looked into purchasing a hybrid vehicle and found that the EV rebates plus the solar savings combined would make obtaining an EV affordable. 
The result was beyond what Lupe imagined. She now has a newer hybrid vehicle, an EV charger, and a solar energy system at her home. Lupe continued to learn about energy efficiency from GRID and her utility company. Her monthly utility bill has gone from a $175 average to a $5 average. In over six months, she has fueled her hybrid vehicle once and still has gas in the tank!  When asked how she liked going solar with GRID, Lupe joyfully replied, "It has been really good for me!"