Leaders of NAACP Compton Branch toured a GRID Alternatives Greater Los Angeles (GRID GLA) single-family installation in a southern Compton neighborhood yesterday, part of land that had once been agrarian Rancho San Pedro – and is now working towards a clean energy future! As part of their installation project during GRID's Solar Spring Break, Chapter President Paulette S. Gipson addressed a dozen staff and students who are doing service in the community as part of their first hands-on experience with renewables. GRID's single-family solar program, Energy for All, provided the best opportunity for Compton stakeholders to come together at the home of the Washington family, who is always using this plot of land for family gatherings, honoring their community, and some agricultural practices.
According to local NAACP Second Vice President Ernest Green, who toured the Washington install, "Compton is a wonderful place to raise a family—and we want to keep it that way." Solar Spring Break students, including future engineers from Villanova University, engaged with neighborhood inhabitants and the NAACP team as part of a weeklong trip learning about innovative implementation of green tech.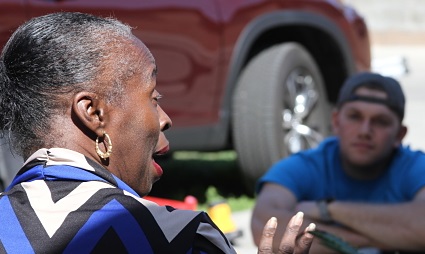 "The presence of community leaders like President Gipson and Second Vice President Green at today's build is a testament to our collaborative approach to work in Compton," noted GRID GLA Partnerships and Clean Mobility Manager Stella Ursua. "We know that folks in Compton, like so many places we work, are ready for a future where families' access is not limited by their income." When Dorothea Washington turns on her solar later this month, totaling more than five free DC kilowatts, she can look forward to estimated savings of $1375.55 a year – well into old age!
As part of two days commuting to Compton's south side without relying on dirty fuels, Villanova students also examined the question of how mobility and infrastructure gaps create challenges to the communities of color in South Los Angeles County. The Washington family home lies in a quiet neighborhood, separated from the public transit system by a half-mile of dense factories and industrial property. Luckily, clean mobility options were able to connect students to their build.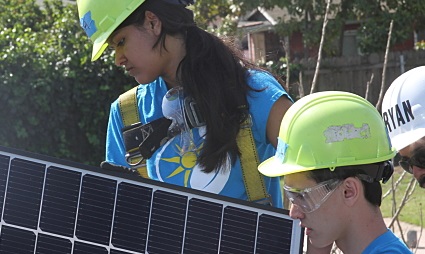 On the Solar Spring Break group's final day of construction Solar Installation Supervisor Sal Miranda helped student leaders Ryan Haack and Haley Mcclure flip the switch on a new system. The excitement they felt is a lot like the excitement our California-based trainees, volunteers, and other partners feel almost every day! With most mornings of the week still ripe opportunities to participate in GRID construction, there are going to be plenty of opportunities over the rest of 2020 to make sure that Compton's transition is complete, just, and timely.
At GRID, the largest solar installer in the country serving exclusively low-income communities and communities of color, we pride ourselves on a dedication to approach energy issues by seeing them through the lens we and our local communities need: one of social justice, racial justice, and economic justice. Our Solar Spring Break programming this year was carefully crafted around young people from university groups exploring the ways equity needs to live within this work, and was guided by GRID's Commitment to Equity. For a sharper understanding of what that means on the local level, we encourage you to read that commitment here:
https://gridalternatives.org/who-we-are/commitment-to-equity