Across the District of Columbia, 42 families are now benefiting from the financial savings that solar power provides, thanks to a partnership between GRID Alternatives and The DC Sustainable Energy Utility (DCSEU). GRID Alternatives Mid-Atlantic just finished up these solar installations in DC this summer through DCSEU's Affordable Solar Program. GRID was chosen to be one of the program's primary solar installers. The DCSEU's Affordable Solar Program just completed its fifth year, and has already begun work on next year's projects.
These solar installations helped a variety of families, from Tyrone Evans, a retired cab driver living by the Anacostia River, to Kirby York, a working mother with a four-year old child. Our clients range from retired to employed; one of our clients, Stephanie Chew, currently works for the Department of Parks and Recreation. Another client, Taji, is a retired government employee. They also have diverse interests. Donavan plays basketball with friends, loves going to the gym early in the morning, and is an avid reader of world affairs, whereas Isha Foster-Lee spends quality time with her kids working in the garden. These are clients who GRID strives to provide better lives for. "Our collaboration with DCSEU allows us to reach more homeowners in the area and help them reduce their electricity bills. We are proud of the work we have done for these 42 families, and are making big plans to help many more in the years to come." says Nicole Steele, Executive Director of GRID Alternatives Mid-Atlantic.
Through our solar installations, GRID provides job training experiences for youth in the area. Two of our installations were completed by Latin American Youth Center (LAYC) job trainees. Each group spent one week in the office, learning safety skills, warehouse etiquette, and how solar panels work. The culmination of each group's week was installing solar for a DC homeowner.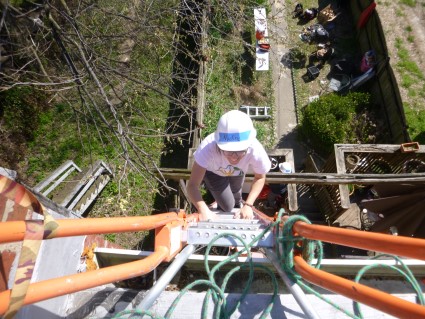 Six of these DC installations were completed by the Department of Energy and Environment's Green Zone Environmental Program trainees. 15 GZEP participants joined the GRID office and worked side-by-side with GRID employees for six weeks, learning new skills such as canvassing, warehouse and safety skills, and installing solar panels. These job trainees were able to learn these brand new skills through hands-on experience. At the end of the summer, two of the trainees and one of the GZEP team leaders were offered full-time SolarCorps positions at GRID.
On July 25th, 2016, at homeowner Kirby York's house, DC Mayor Muriel Bowser signed the DC Renewable Portfolio Energy Standard Expansion Act of 2016 (RPS) introduced by Councilmember Mary Cheh. This new legislation requires DC to reach a 50% renewable energy standard by the year 2032, with a 5% carve-out for solar. Part of the RPS bill is a low-income solar program, which will benefit 100,000 low-income families in DC by the year 2032. The ongoing DCSEU program will play a big part in building momentum towards meeting that standard.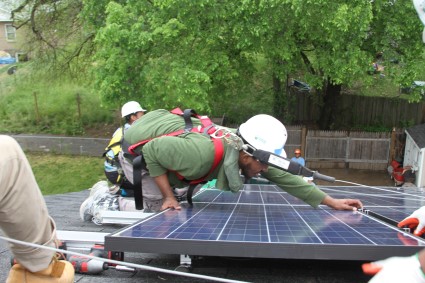 The 42 homeowners came into the program from multiple sources, including referrals from Habitat for Humanity, DCSEU, other clients, community presentations, and canvassing efforts (going door-to-door in DC neighborhoods). Funding for these installations came from DCSEU's low income solar rebate program, funded by the DC Renewable Energy Development Fund, the SREC market, as well as our corporate donors and industry partners.
DCSEU was a success thanks to the collaboration of different organizations with similar visions. This program is a great demonstration of GRID's mission – while accomplishing an ambitious installation goal and providing the benefits of solar to multiple families in DC, we were able to provide great job training opportunities and provide the benefits of solar to homeowners.
Read about some of GRID Alternatives clients' experiences here.