Two-and-a-half years after being selected for Habitat for Humanity homeownership and 14 years after moving to the United States from Ethiopia, Tesfaye's new home is nearly ready.
The three-bedroom, slate blue house built by Habitat for Humanity of Northern Virginia is adorned with wood floors and sparkling appliances. Outside, there's a deck, a large front porch, and the yard houses a mix of young saplings and mature shade trees.
Just before 3 p.m. on August 19, another feature was added to the home: an eight-panel solar energy system.
Tesfaye and his family will move into the abode in September. The solar panels on their roof, installed by GRID Alternatives Mid-Atlantic, will help reduce their monthly electric bill by 60% or more. Over its lifetime, the 2.44-kilowatt system will save the same amount of energy (almost 60 tons of carbon emissions) as taking 12 cars off the road for a year or planting 1,480 trees. It's expected to save the Tesfaye and his family approximately $7,000 in electric expenses.
Tesfaye moved with his wife Tigist from Ethiopia to the United States in 2005 as participants in the Diversity Immigrant Visa Program. They have two children: a 17-year old daughter, Hermela, and a 15-year old son, Natnael. Tesfaye works as a public transit driver, and Tigist is a preschool art teacher.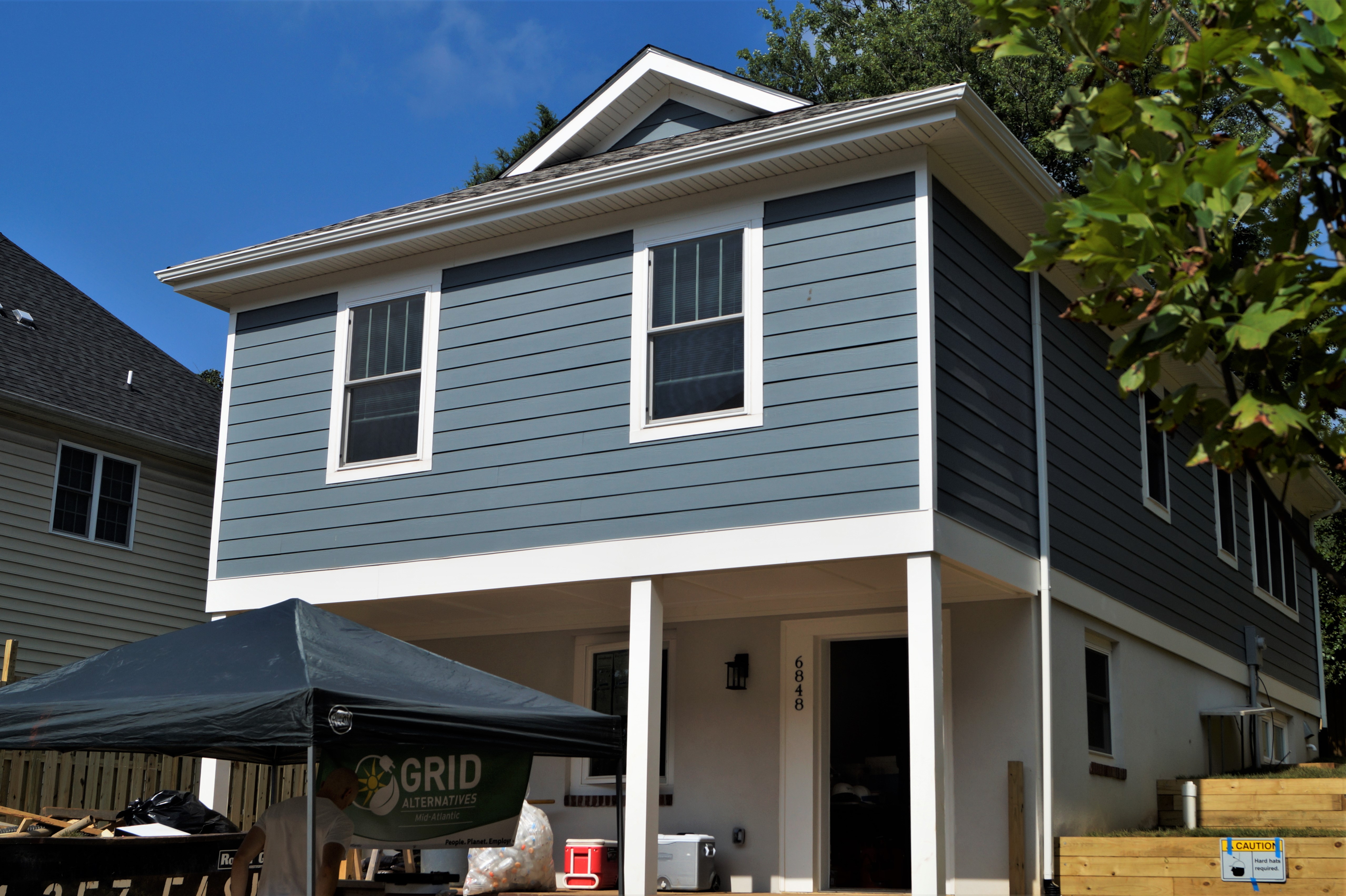 The family of four shares a two-bedroom apartment in Falls Church, Virginia. Hermela and Natnael share the master bedroom since it is slightly larger. The master bedroom closet serves as a makeshift sleeping area for Natnael, but the door must remain open permanently for ventilation.
The apartment also lacks air circulation, only two of the gas stove's four burners work properly, and a freezer sits in the living room because the integrated unit above the refrigerator no longer operates.
More than 50 percent of the family's income goes towards rent, which increases every two years. A reasonable monthly mortgage would help build equity and allow them to save for the future, but their household income does not qualify for a conventional mortgage loan. Rising housing costs in Northern Virginia prevent them from qualifying for a Federal Housing Administration loan.
The family went through a rigorous application process before being selected for Habitat for Humanity homeownership in November 2016. The family was required to put in 400 hours of sweat equity (which includes hours spent volunteering and in financial literacy) before moving into the home. They compiled more than 600 in total.
The partnership between Habitat for Humanity Northern Virginia and GRID Mid-Atlantic ensured the family's new home wouldn't come with exorbitant electric bills. Clients that have systems installed by GRID Mid-Atlantic typically see their annual electric expenses get cut in half. Tesfaye's family will see those savings right out of the gate.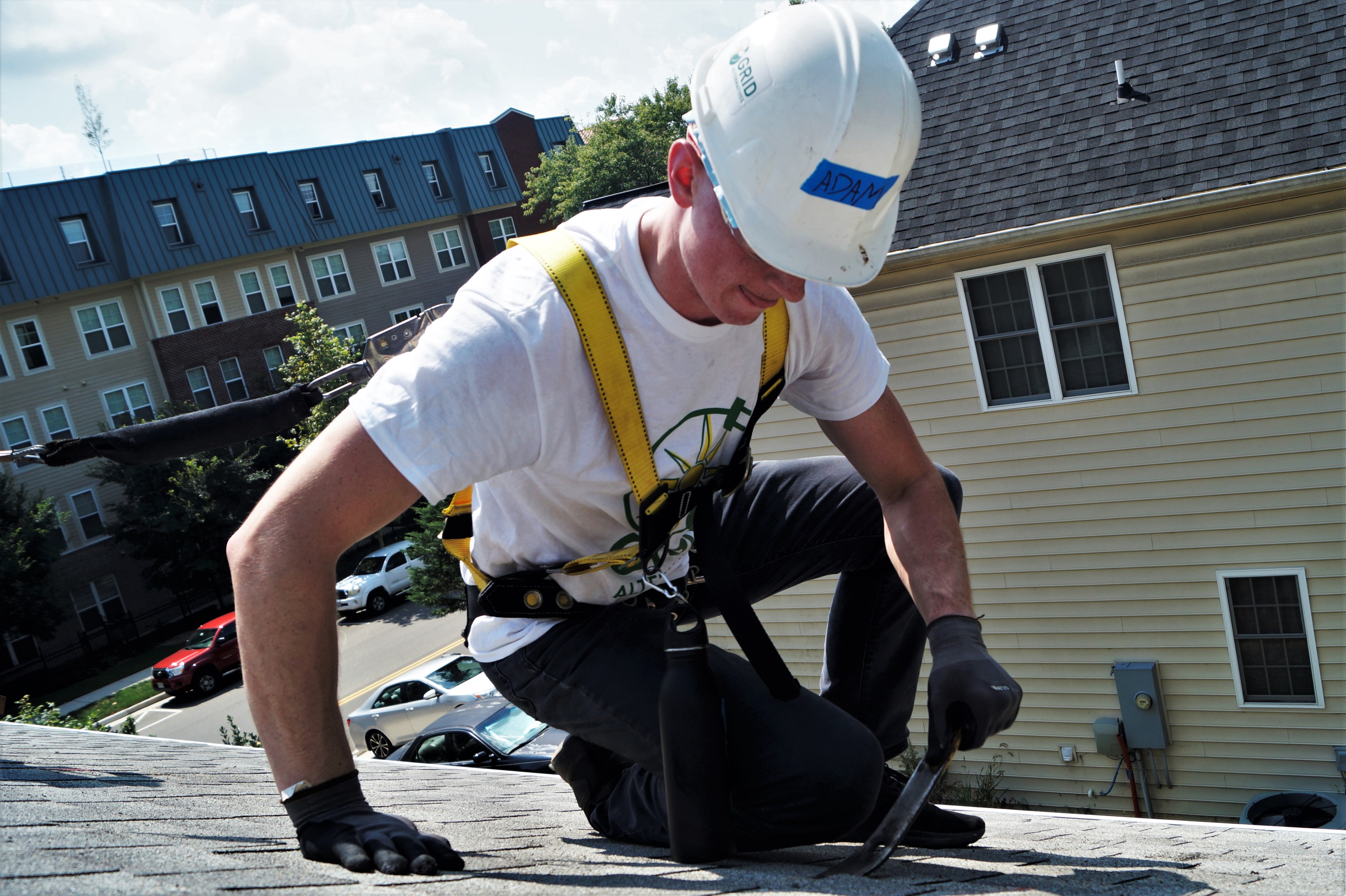 GRID Mid-Atlantic had help installing the new panels. Through a corporate partnership with GRID Mid-Atlantic and KPMG, five volunteers from regional KPMG offices arrived to help with the solar installation on August 17. The volunteers — who all participated in a one-hour safety orientation before arriving at the work site — helped install solar panel rails and run conduit on the roof, while also assisting to hook up the converter and A/C disconnect on the ground.
The partnership shows that GRID Alternatives' and Habitat for Humanity's bold but simple visions for the future are possible in tandem. Together, we can make a decent place to live and access to clean, renewable energy available to everyone.
Full photo gallery available on Flickr.