"If I could sum up today in a few words I'd say 'satisfying, sweaty, heat'." said Marcus Jones, Branch Manager at Wells Fargo. Seven volunteers from Wells Fargo came out on a 95 degree day in July to install a solar system for a low-income homeowner in Baltimore's Berea neighborhood, Mr. Darnell Edmond.
GRID staff and Wells Fargo Volunteers were eager to meet each other, connect with friends old and new, and get up on the roof to install solar. Electrical contractors arrived on site early to begin work inside Mr. Edmond's basement, and several neighbors and community members came by to welcome us and ask us about the work we were doing. We were especially grateful to meet Rev. Kevin A. Slayton, Sr., Senior Pastor of New Waverly UMC and social justice advocate, who stopped by to thank the volunteers for their service and kickoff our morning with a blessing. One volunteer was inspired by Rev. Slayton's words and passion about both protecting the environment and giving back to the community. "It is belief that we are here to be stewards of the gift we were given by the Creator. This is one way we can do this and help someone out financially," said Marcus.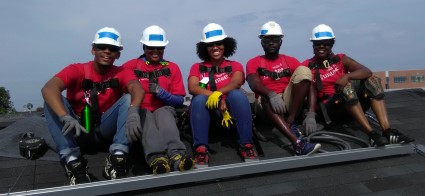 For the volunteers in attendance, this day was more than just a photo opportunity. The Wells Fargo volunteers deepened their connection to the community they serve every day at the bank. "For us, we don't usually get to do work where we can see immediate impact and with this project, we were able to make an immediate, positive impact. This [solar workday] is just as satisfying as the work I do every day at Wells Fargo to make transformational change in our community" remarks Monica Mitchell, Vice President of Community Development Mid-Atlantic. At lunch, GRID staff and volunteers shared sandwiches, snacks, and ideas about how we can effect social and environmental justice in our community. Making an impact is a strong driving force that motivated Wells Fargo team members to get involved.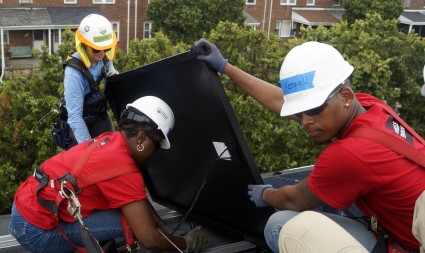 Mr. Edmond, who prefers to be called Dre, was very excited and grateful to be receiving a solar system from GRID Alternatives. And although he was not around while his solar was installed, his presence was still felt by the Wells Fargo volunteers, who were motivated to help Dre save money while helping the environment. This project was in the Morgan Community Mile area of Baltimore, where GRID has completed 31 projects. Dre ended up on a waitlist because his home required an electrical panel upgrade in order to have solar and the Morgan Community Mile program funds had expired before we could complete Dre's panel upgrade. However, due to to Wells' immense generosity, GRID was able to fund the upgrade and complete Dre's installation, with the help of the Wells volunteers.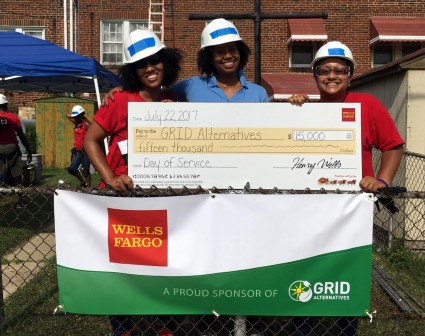 This project will have a strong, positive impact for Dre. His 4.16 kW system is going to save him an estimated $20,893 over the next 25 years. In addition to saving Dre money, the sixteen-panel system will also create a net savings of 108 tons of greenhouse gas emissions over its 25-year lifetime, which is the equivalent of planting 2,523 trees or taking 21 cars off the road for a year. Plus, it was a fun, team-building day for Wells Fargo that had a real impact on the community. "It was a wonderful experience to learn about how much solar energy can save this homeowner monthly. I also learned a new skill and the teamwork was the icing on the cake," said Courtney J. DeRamus, Program Consultant for Wells Fargo At Work. By the end of the day, the hard-working volunteers went home feeling tired, but satisfied that their work was making a real difference in the community.
Wells Fargo stepped up to make a difference in this community in Baltimore, MD and your company or organization can as well! Want to pitch in? - Make a donation today or check out our Sponsored Workday opportunities.