Bay Area
Bay Area
GRID Alternatives Bay Area leads teams of volunteers and job trainees to install solar electric systems for low-income families from Santa Clara to Sonoma County, providing families with needed savings and giving Bay Area workers hands-on experience to help them find jobs in the green-tech economy. Additionally, the North Coast Tribal Satellite Office serves rural and tribal members in Del Norte, Humboldt, Lake, Mendocino, and upper Sonoma counties. Be a part of the clean energy transition- become a client, volunteer or make a donation today!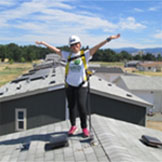 Your gift puts solar power and solar jobs where they are needed most.
Connect With GRID
Follow us on social media:
GRID Bay Area
1171 Ocean Avenue, Suite 200
Oakland, CA 94608
377 East San Francisco Avenue
Willits, CA 95490
News From the Field
When Pittsburg resident Liduvina Abud learned about GRID, she knew she needed to include her son, who lives just around the corner from her. But when...

Welcome to our May installment of our Staff Spotlight feature, where we share a brief interview to introduce you to some of our amazing staff members...

The City of Pittsburg baked in the springtime sun as Steven Chan sought shelter underneath a sprawling, leafy tree. Along with eleven other students...

n honor of National Women's History Month, we're introducing Catalina Coz, one of our incredible Outreach Coordinators! Catalina's passion for the...

Growing up in a traditional Mexican household, Amaris learned all about gender roles. She has never been one to accept something that didn't make...