Bay Area
Bay Area
GRID Alternatives Bay Area leads teams of volunteers and job trainees to install solar electric systems for low-income families from Santa Clara to Sonoma County, providing families with needed savings and giving Bay Area workers hands-on experience to help them find jobs in the green-tech economy. Additionally, the North Coast Tribal Satellite Office serves rural and tribal members in Del Norte, Humboldt, Lake, Mendocino, and upper Sonoma counties. Be a part of the clean energy transition- become a client, volunteer or make a donation today!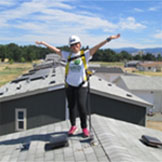 Your gift puts solar power and solar jobs where they are needed most.
Connect With GRID
Follow us on social media:
GRID Bay Area
1171 Ocean Avenue, Suite 200
Oakland, CA 94608
377 East San Francisco Avenue
Willits, CA 95490
News From the Field
When it comes to making clean energy future that includes everyone, Ashley Gremel doesn't just walk the walk -- she picks up a paddle and starts...

On a crisp and sunny January morning in East Palo Alto, a crew began to assemble in the front yard of a modest and well-cared for single-story home...

Winnie Nartia, one of GRID's newest SolarCorps Fellows, traded her desk for a rooftop last month as she got to experience her very first solar...

The Bay Area has been lucky enough to have amazing volunteers and interns over the years. We want to introduce you to one of our current awesome Bay...

The City of Richmond recently earned a special clean energy milestone as the Bay Area city with the most GRID installed solar, which is currently...