Bay Area
Bay Area
GRID Alternatives Bay Area leads teams of volunteers and job trainees to install solar electric systems for low-income families from Santa Clara to Sonoma County, providing families with needed savings and giving Bay Area workers hands-on experience to help them find jobs in the green-tech economy. Additionally, the North Coast Tribal Satellite Office serves rural and tribal members in Del Norte, Humboldt, Lake, Mendocino, and upper Sonoma counties. Be a part of the clean energy transition- become a client, volunteer or make a donation today!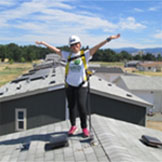 Your gift puts solar power and solar jobs where they are needed most.
Connect With GRID
Follow us on social media:
GRID Bay Area
1171 Ocean Avenue, Suite 200
Oakland, CA 94608
377 East San Francisco Avenue
Willits, CA 95490
News From the Field
n honor of National Women's History Month, we're introducing Catalina Coz, one of our incredible Outreach Coordinators! Catalina's passion for the...

Growing up in a traditional Mexican household, Amaris learned all about gender roles. She has never been one to accept something that didn't make...

On the rooftop of a San Francisco family, a whole GRID community comes together for a brighter future for all.

GRID North Coast's new short-term paid training opportunities can provide up to $300/day to qualified job seekers.

Welcome to our February edition of our Staff Spotlight feature, where we share a brief interview to introduce you to some of our amazing staff...