Bay Area
Bay Area
GRID Alternatives Bay Area installs rooftop, community, and multifamily solar electric systems for income qualified households and affordable housing providers, providing families with needed savings and training workers for jobs in the green-tech economy. We also help low-income families access clean vehicle and transportation options that can save them money and improve local air quality. Offices in both Oakland and Willits allow GRID Bay Area to serve residents from Santa Clara to Sonoma County as well as tribal communities in Del Norte, Humboldt, Lake, Mendocino, and upper Sonoma counties. Be a part of the clean energy transition - become a client, volunteer, member or make a donation today!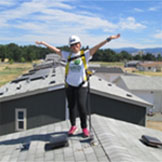 Your gift puts solar power and solar jobs where they are needed most.
Connect With GRID
Follow us on social media:
GRID Bay Area
1171 Ocean Avenue, Suite 200
Oakland, CA 94608
377 East San Francisco Avenue
Willits, CA 95490
News
This month we are highlighting our SolarCorps Construction & Outreach Fellow in our North Coast Office. Read on for what inspires Garrison and...

GRID has been making great strides in clean mobility; creating greater accessibility to clean and reliable transportation options; since the launch...

Thanks in large part to Sunrun, GRID Alternatives Bay Area recently installed an 8.06 kW solar system at the Rio Vista Veterans Residence. The home...

As you exit Highway 101 and drive into Redwood Valley Rancheria, you can see the scorched slopes of the surrounding hills - evidence of how close the...

It's been nine months we hosted 73 women for our week of Women in Solar (WIS) programming where we provided hands-on training, resume building, and a...