Greater LA
Greater LA
GRID Alternatives Greater Los Angeles leads teams of volunteers and job trainees to install solar electric systems for low-income families in Los Angeles, Orange and Ventura Counties, providing families with needed savings and giving area workers hands-on experience to help them find employment in the green-tech economy. Since we opened in 2007, we've helped over 1,120 low-income families go solar throughout the Greater Los Angeles region. Be a part of the clean energy transition- become a client, volunteer or make a donation today!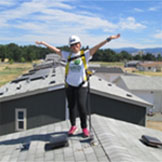 Your gift puts solar power and solar jobs where they are needed most.
Connect With GRID
Follow us on social media:
1338 South Flower Street
Los Angeles, CA 90015
General inquiries
infogla@gridalternatives.org / (310) 735-9762
Individual volunteering
volunteergla@gridalternatives.org / (310) 735-9782
Donations and corporate sponsorships
rgabbay@gridalternatives.org / (213) 725-5123
New Clients and Sevice Calls
glaoutreach@gridalternatives.org / (213)213-5899
News From the Field
This is the latest in a series of regular profiles introducing the GRID Alternatives Greater Los Angeles staff.

Today, between 500,000 and a million people call this side of town "home."

Their decision to bring renewable energy onto the rooftop at Alegria has big implications: $170,000 in expected output over the system lifetime.

The LA:RISE cohort has already spent more than a week in our warehouse, learning about supply chain and equipment needs of a working solar business.