Greater LA
Greater LA
GRID Alternatives Greater Los Angeles leads teams of volunteers and job trainees to install solar electric systems for low-income families in Los Angeles, Orange and Ventura Counties, providing families with needed savings and giving area workers hands-on experience to help them find employment in the green-tech economy. Since we opened in 2007, we've helped over 1,900 low-income families go solar throughout the Greater Los Angeles region. Be a part of the clean energy transition- become a client, volunteer or make a donation today!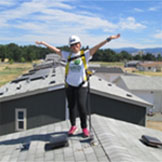 Your gift puts solar power and solar jobs where they are needed most.
Connect With GRID
Follow us on social media:
1338 South Flower Street
Los Angeles, CA 90015
General Inquiries
David Andrade
Donations and Corporate Sponsorships
Lillian Ma
New Clients and Sevice Calls
Communications and Media Inquiries
Danny Hom
News
The keynote and panels from this free web conversation have been uploaded for public sharing.

She's one of the dozens of jobseekers, mostly based in California, who signed up to connect and converse with eight different employers.

In industrial Long Beach, positioned close to major transportation corridors extending out of West Coast ports, this lack of carbon matters!

This is the latest in a series of regular profiles introducing the GRID Alternatives Greater Los Angeles staff. In their own way, each member of our...

2020 has been a year of change, but we know that solar is an answer to many of the L.A. needs that persist around us.