Greater LA
Greater LA
GRID Alternatives Greater Los Angeles leads teams of volunteers and job trainees to install solar electric systems for low-income families in Los Angeles, Orange and Ventura Counties, providing families with needed savings and giving area workers hands-on experience to help them find employment in the green-tech economy. Since we opened in 2007, we've helped over 1,120 low-income families go solar throughout the Greater Los Angeles region. Be a part of the clean energy transition- become a client, volunteer or make a donation today!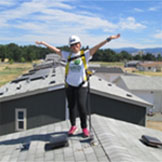 Your gift puts solar power and solar jobs where they are needed most.
Connect With GRID
Follow us on social media:
1338 South Flower Street
Los Angeles, CA 90015
General inquiries
infogla@gridalternatives.org / (310) 735-9762
David Andrade
volunteergla@gridalternatives.org / (310) 735-9782
Donations and corporate sponsorships
Teresa Perez
tperez@gridalternatives.org / (310)579-9197
New Clients and Sevice Calls
glaoutreach@gridalternatives.org / (213)213-5899
Communications and Media Inquiries
Danny Hom
dhom@gridalternatives.org / (310)735-9787
News From the Field
This past summer, four families living in Montebello, CA had their energy use dramatically lowered with the installation of solar panels on their...

It's money for her grandchildren's sports lessons in Santa Monica, trips to visit friends out of state, or whatever she chooses.

Veterans can be both present and unseen in today's America. What can a mission-driven environmental and social justice organization like us do?

This experience fully demonstrated how renewables can drive environmental benefits and economic relief for those communities that need it most.

Outreach & Partnerships Manager Stella Ursua will address city councilmembers to make sure people across Long Beach get senses of our impact.