Greater LA
Greater LA
GRID Alternatives Greater Los Angeles leads teams of volunteers and job trainees to install solar electric systems for low-income families in Los Angeles, Orange and Ventura Counties, providing families with needed savings and giving area workers hands-on experience to help them find employment in the green-tech economy. Since we opened in 2007, we've helped over 1,120 low-income families go solar throughout the Greater Los Angeles region. Be a part of the clean energy transition- become a client, volunteer or make a donation today!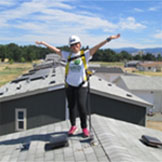 Your gift puts solar power and solar jobs where they are needed most.
Connect With GRID
Follow us on social media:
1338 South Flower Street
Los Angeles, CA 90015
General inquiries
infogla@gridalternatives.org / (310) 735-9762
Individual volunteering
volunteergla@gridalternatives.org / (310) 735-9782
Donations and corporate sponsorships
rgabbay@gridalternatives.org / (213) 725-5123
New Clients and Sevice Calls
glaoutreach@gridalternatives.org / (213)213-5899
News From the Field
As NAACP President and CEO Derrick Johnson has insisted, "Underserved communities cannot be left behind in a clean energy transition."

This is the latest in a series of regular profiles introducing the GRID Alternatives Greater Los Angeles staff.

We recognized some special award recipients who were onhand: Juan Campos is our Student of the Year. Isaiah Alvarez is our Trainee of the Year.

Of course, all the Galaxy's efforts along these avenues align perfectly with our work helping Carson go green.

We're committed to people like the low-income residents of Long Beach, and they'll be an important part of the transition we lead across the...