Greater LA
Greater LA
GRID Alternatives Greater Los Angeles leads teams of volunteers and job trainees to install solar electric systems for low-income families in Los Angeles, Orange and Ventura Counties, providing families with needed savings and giving area workers hands-on experience to help them find employment in the green-tech economy. Since we opened in 2007, we've helped over 1,120 low-income families go solar throughout the Greater Los Angeles region. Be a part of the clean energy transition- become a client, volunteer or make a donation today!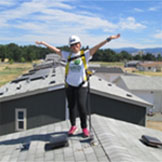 Your gift puts solar power and solar jobs where they are needed most.
Connect With GRID
Follow us on social media:
1338 South Flower Street
Los Angeles, CA 90015
General inquiries
infogla@gridalternatives.org / (310) 735-9762
David Andrade
volunteergla@gridalternatives.org / (310) 735-9782
Donations and corporate sponsorships
Teresa Perez
tperez@gridalternatives.org / (310)579-9197
New Clients and Sevice Calls
glaoutreach@gridalternatives.org / (213)213-5899
Communications and Media Inquiries
Danny Hom
dhom@gridalternatives.org / (310)735-9787
News From the Field
We believe that men and women who have paid their debt to society are ready to contribute to the public good, and that solar employment holds the key.

Once they arrived at their installs in Long Beach, both teams saw the lessons they learned on previous days brought to life!

"When we came back down from the mountain, people said, 'Thank you so much—you saved our homes.' I realized I liked helping people."

Last weekend, the Del Grosso family had a chance to see some of that helpful spirit in person!

This is the latest in a series of profiles introducing the GRID Alternatives Greater Los Angeles staff.