Mid-Atlantic
Mid-Atlantic
GRID Alternatives Mid-Atlantic brings together community partners, volunteers and job trainees to implement solar power and energy efficiency for low-income families in Maryland, D.C., Virginia and Delaware, providing energy cost savings, valuable hands-on experience, and a source of clean, local energy that benefits us all.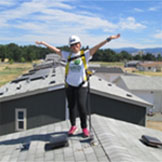 Your gift puts solar power and solar jobs where they are needed most.
Connect With GRID
Follow us on social media:
GRID Alternatives Mid-Atlantic
1629 Benning RD NE, Suite 300
Washington, DC 20002
Phone: (202) 602-0191
Email: infodc@gridalternatives.org
News From the Field
On November 3, 2018, volunteers from WGL Holdings joined GRID Alternatives Mid-Atlantic to install solar for two families in the District of Columbia...

Solar job seekers and employers gathered for the third annual Solar Focus Job Fair, co-hosted by MDV-SEIA and GRID Alternatives Mid-Atlantic.

Solar is a fast growing industry with career paths for a variety of interests and skillsets. Plus, you get paid to fight climate change!

GRID Alternatives Mid-Atlantic is engaged in solar policy advocacy in the District of Columbia, Maryland, Virginia, and elsewhere along the East...

We believe that everyone should benefit from solar technology. Not just our clients receiving the solar systems, but also the hard workers installing...