Mid-Atlantic
Mid-Atlantic
GRID Alternatives Mid-Atlantic brings together community partners, volunteers and job trainees to implement solar power and energy efficiency for low-income families in Maryland, D.C., Virginia and Delaware, providing energy cost savings, valuable hands-on experience, and a source of clean, local energy that benefits us all.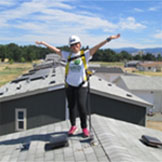 Your gift puts solar power and solar jobs where they are needed most.
Connect With GRID
Follow us on social media:
GRID Alternatives Mid-Atlantic
1629 Benning RD NE, Suite 300
Washington, DC 20002
Phone: (202) 602-0191
Email: infodc@gridalternatives.org
News From the Field
Emanuel Nelson graduated from the Solar Works DC job training program in Fall 2018. With hands-on experience and industry-relevant certifications, he...

On February 12, the Solar Foundation released the 2018 National Solar Jobs Census, providing an in-depth look at the state of the U.S. solar industry...

At GRID, our vision is to build a clean energy future that includes everyone and the realization of this goal will rely on our understanding of past...

We interviewed Terry and Rhannell about their experience with the Solar Works DC training program and their plans for the future. Here's what they...

Solar is one of the fastest growing industries in the U.S., but there is still a ways to go before it becomes an equitable industry. That's where our...