Mid-Atlantic
Mid-Atlantic
GRID Alternatives Mid-Atlantic brings together community partners, volunteers and job trainees to implement solar power and energy efficiency for low-income families in Maryland, D.C., Virginia and Delaware, providing energy cost savings, valuable hands-on experience, and a source of clean, local energy that benefits us all.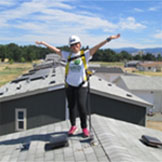 Your gift puts solar power and solar jobs where they are needed most.
Connect With GRID
Follow us on social media:
GRID Alternatives Mid-Atlantic
1629 Benning RD NE, Suite 300
Washington, DC 20002
Phone: (202) 602-0191
Email: infodc@gridalternatives.org
News From the Field
This past week, Kaly Moore and Serena Bruce celebrated their fifth and sixth anniversaries at GRID. Both women superstars started out as Construction...

For our new SolarCorps, GRID is a new beginning. GRID Mid-Atlantic had six new SolarCorps join us this month: three Construction Fellows, two...

"I'm on a single income that I get at the beginning of the month, and by the 10th, I'm broke," shares Mrs. Morris, noting that the lower energy bills...

Justan Randolph, a team leader for the 2018 summer cohort, would be the first to tell you that it's not just the trainees that are benefiting from...

"It still doesn't feel like work." This is how Batrina, a local Washingtonian, describes her new Workforce Training Supervisor position with GRID.