Mid-Atlantic
Mid-Atlantic
GRID Alternatives Mid-Atlantic is a 501(c)(3) organization that provides no-cost solar installations and solar job training in the District of Columbia, Maryland, Virginia and Delaware. Through partnerships with local government agencies, corporations, housing providers, and local communities, GRID Mid-Atlantic provides solar energy at no-cost to income-qualified residents and communities of color. GRID Mid-Atlantic's workforce training program gives participants, including those without experience in solar or construction, an opportunity to enter the growing solar industry. We envision a rapid, equitable transition to a world powered by renewable energy that benefits everyone.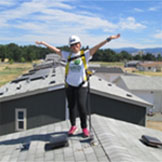 Your gift puts solar power and solar jobs where they are needed most.
Connect With GRID
Follow us on social media:
GRID Alternatives Mid-Atlantic
1629 Benning RD NE, Suite 300
Washington, DC 20002
Phone: (202) 602-0191
Email: infodc@gridalternatives.org
News
Welcome to this month's GRID Mid-Atlantic Policy Roundup, keeping you up-to-date on renewable energy policy that promotes equity and racial justice...

At GRID Alternatives Mid-Atlantic, our work centers on the knowledge that climate action, environmental justice, and economic development go hand-in-...

On Wednesday, January 6th, thousands of supporters of Donald Trump marched towards the US Capitol in an effort to disrupt the democratic transfer of...

Solar savings can be a source of certainty during uncertain times.

Twice a year, solar instructor Dr. Sean White takes a week-long business trip to Washington, D.C. — one of a handful of places he visits regularly...