Mid-Atlantic
Mid-Atlantic
GRID Alternatives Mid-Atlantic brings together community partners, volunteers and job trainees to implement solar power and energy efficiency for low-income families in Maryland, D.C., Virginia and Delaware, providing energy cost savings, valuable hands-on experience, and a source of clean, local energy that benefits us all.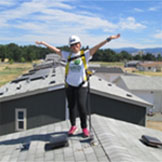 Your gift puts solar power and solar jobs where they are needed most.
Connect With GRID
Follow us on social media:
GRID Alternatives Mid-Atlantic
1629 Benning RD NE, Suite 300
Washington, DC 20002
Phone: (202) 602-0191
Email: infodc@gridalternatives.org
News From the Field
Good morning from the Mid-Atlantic region! This is the second edition of the GRID Alternatives Mid-Atlantic Policy Roundup, keeping you up-to-date on...

On September 19, GRID Alternatives Mid-Atlantic will celebrate its five-year anniversary at the Solar Soirée Gala. Looking back, we've come a long...

GRID Alternatives is committed to advancing equity, inclusion, and diversity. This June, GRID Mid-Atlantic is proud to continue our tradition of...

"What led me to where I am today? What am I not doing? When will an opportunity present itself to me?" Julian asked himself these questions while...

Jalen Jacobs, a junior at H.D. Woodson Engineering Academy, was in the middle of a story Tuesday afternoon when the shrill sound of an impact driver...