Mid-Atlantic
Mid-Atlantic
GRID Alternatives Mid-Atlantic is a nonprofit providing no-cost solar installations and solar job training in D.C., Maryland, Virginia and Delaware. Through partnerships with local government agencies, corporations, housing providers, and local communities, GRID Mid-Atlantic provides solar energy at no-cost to income-qualified residents and communities of color. GRID Mid-Atlantic's workforce training program gives participants, including those without experience in solar or construction, an opportunity to enter the growing solar industry. Our vision is a successful transition to clean, renewable energy that includes everyone.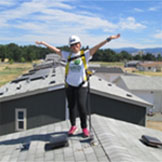 Your gift puts solar power and solar jobs where they are needed most.
Connect With GRID
Follow us on social media:
GRID Alternatives Mid-Atlantic
1629 Benning RD NE, Suite 300
Washington, DC 20002
Phone: (202) 602-0191
Email: infodc@gridalternatives.org
News From the Field
To our GRID Mid-Atlantic Family, When then-EPA administrator Gina McCarthy and other Obama administration officials joined us in Ivy City for the...

After leading GRID Alternatives Mid-Atlantic for five years, Executive Director Nicole Steele will step down from her position in mid-January.

Twice a year, solar instructor Dr. Sean White takes a week-long business trip to Washington, D.C. — one of a handful of places he visits regularly...

Last year, Marcelous was in a classroom, joined by other passionate individuals, all sharing one common goal -- to start a career in solar...

This month's roundup includes a long-awaited update on the D.C. Comprehensive Plan Framework, as well as information on the General Assembly...