Mid-Atlantic
Mid-Atlantic
GRID Alternatives Mid-Atlantic is a nonprofit providing no-cost solar installations and solar job training in D.C., Maryland, Virginia and Delaware. Through partnerships with local government agencies, corporations, housing providers, and local communities, GRID Mid-Atlantic provides solar energy at no-cost to income-qualified residents and communities of color. GRID Mid-Atlantic's workforce training program gives participants, including those without experience in solar or construction, an opportunity to enter the growing solar industry. Our vision is a successful transition to clean, renewable energy that includes everyone.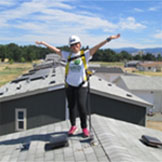 Your gift puts solar power and solar jobs where they are needed most.
Connect With GRID
Follow us on social media:
GRID Alternatives Mid-Atlantic
1629 Benning RD NE, Suite 300
Washington, DC 20002
Phone: (202) 602-0191
Email: infodc@gridalternatives.org
News From the Field
Three volunteers from Accenture assisted GRID Mid-Atlantic during a work day in August, helping to install 16 panels on the Andrews family home in...

Tesfaye's new Habitat for Humanity home is nearly ready. Tesfaye and his family will move into the abode in September, and the solar panels on their...

Hello from GRID Mid-Atlantic! This is the August edition of the GRID Alternatives Mid-Atlantic Policy Roundup, keeping you up-to-date on renewable...

Working at GRID Mid-Atlantic has changed my overall perspective. It was an intro to living a more sustainable life both personally and professionally.

Enjoy our July "Career Connector" newsletter. This month, we're featuring the hiring success story of a graduate from our workforce training program.