GRID Alternatives' Bay Area team is excited to announce that this year's Bay Area Solarthon will take place in Richmond, CA on September 26th!
Solarthon is GRID's flagship community installation event, bringing together homeowners, volunteers, corporate sponsors and job-trainees to install solar for multiple low-income families in one day. This year, GRID is proud to host our second Solarthon in Richmond CA, a diverse and historically-rich community in the East Bay that while once was a center of industry, is now best known for high rates of crime, poverty, and pollution.
But despite the city's challenges, there's much good news coming out of Richmond, not the least of which is the city's continuing commitment to renewable energy for all, and GRID is thrilled to be a part of it!
This year at Solarthon, we plan to install complete solar systems for 5 low-income families in Richmond, and everyone is invited to participate! Here's how you can get involved: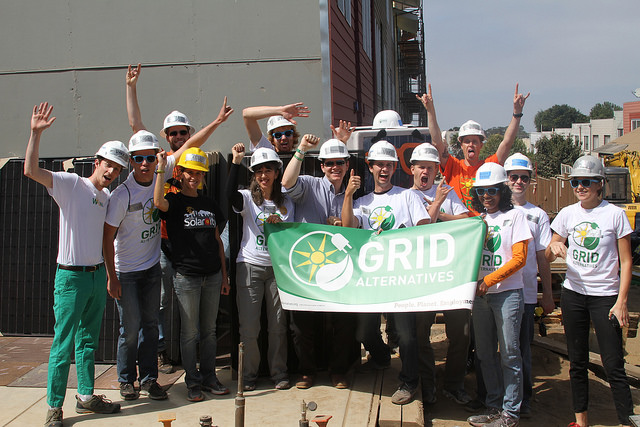 Sign up TODAY - Click here to register as a Solar Champion to fundraise in support of Solarthon and serve on an installation team for the day. Hurry - only 2 spaces left!
Tour Solarthon - See our 10th annual installation celebration in action! Tours begin at 10:30 AM and 1:30 PM. Email Mara Ervin (mervin@gridalternatives.org) for details.
Volunteer as Event Staff - Support event logistics and setup, or use your Team Leader certification to lead a group at the event. Email Liz Young (lyoung@gridalternatives.org) to find out more.
Can't join us? - Click here to donate now towards the event!