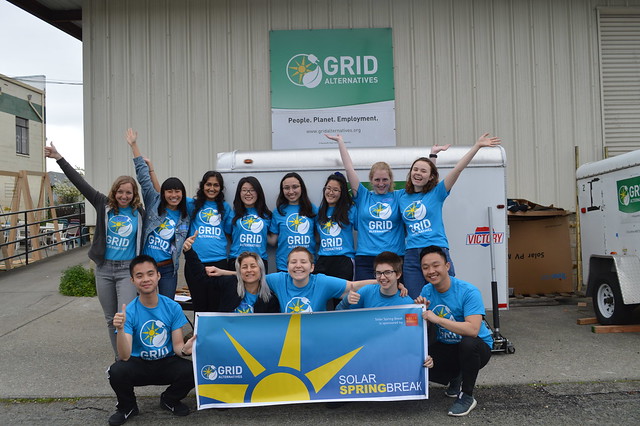 Sabina Mahavni and Taeri Song are 2 of 11 UC Berkeley students that just completed Solar Spring Break with GRID Bay Area. Read their guest blog for a behind the scenes look at the week of solar installations and learning.
Earlier this year, I joined a team of 11 UC Berkeley students to participate in GRID Alternatives' Solar Spring Break program based out of their Oakland office. Throughout the week, we installed solar on low-income community members homes, chatted with homeowners to hear their stories, and learned about how big corporations address equity, inclusion, and diversity. It was an experience that has left us with lasting memories and life-long lessons about the importance of environmental justice.
On our very first day of Solar Spring Break, everybody was a little nervous — unsure about how the rest of the week would turn out. But soon enough, Gwen, the Solar Spring Break coordinator for the Bay Area, had us doing fun, challenging icebreakers and laughing like we had all known each other for years.
We all woke up bright and early the next day to install solar for a low-income family in Antioch. During our lunch break, we had the opportunity to talk with the homeowner, Paula, who had generously provided us with fresh fruits, cookies, and beverages throughout the day. She told us how her husband was initially hesitant about applying for GRID - but who wouldn't be skeptical if somebody came to your door offering you a free solar installation? After talking with GRID's outreach coordinator, who speaks fluent Spanish and was able to explain to Paula and her husband that there were no traps or tricks involved, the family decided to apply, and Paula's cheek-to-cheek smile after seeing the finished product more than revealed her satisfaction with the decision.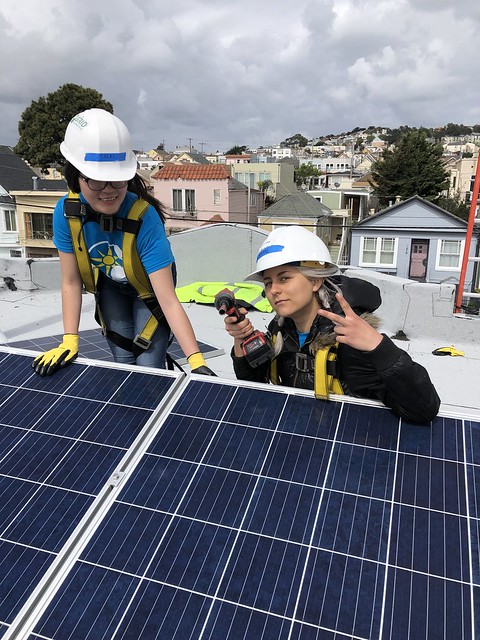 Throughout the week we continued to learn about how big of an impact making renewable energy technology accessible to the community can have. The following day we learned what it was like for women leaders at Sunrun in the male dominated solar industry. During our trip to Powerhouse in Oakland we also gained a snapshot of the cleantech world and the spirit of collaboration, where the threat of climate change played as large of a role as competition and profit for these companies.
One Solar Spring Breaker reflected during the trip to Powerhouse, "I'm really interested in the renewable energy space, and I wanted to get to know the sector in a more hands-on way," UCB senior Cheyenne Kabil said. "In general, renewable energy… (is) vital to combating climate change since fossil fuels are the greatest enemy. For now, it (solar) is our biggest step towards changing our current climate crisis."
Offering no-cost solar to underserved communities not only gives savings to those who need it the most, but also shatters the idea that solar is only accessible to the wealthy. We were reminded of this on our final installation, which we completed in San Francisco for a local family that will be saving $17,812 over the lifetime of the system. It struck us how the people that need these savings the most, are often the ones that have the least access to it. GRID Alternatives is striving to bridge that gap.
One of the ways GRID Alternatives Bay Area is bridging these gaps is through partnerships. We were able learn more about one of their partnerships by taking a tour of Rising Sun Center for Opportunity's headquarters in Oakland. We learned about their incredible Climate Careers program, which employs youth in the community and trains them to carry out free Green House Calls to local residents. We saw the training site for their job readiness program and learned about the gender inequality and bias that still lingers in the application process for construction or manual-labor based careers.
To finish off the week, we gathered together at GRID Alternatives with people from organizations throughout the Bay Area completing fellowships in the environmental justice fields at GRID Alternatives' first ever Fellowship Summit. It was a space to be able to build a strong network of future environmental and social impact emerging professionals. After a week of immersing ourselves in GRID's mission, it was nice to be able to see the many opportunities there are in the Bay Area working for environmental justice everyday. It was also great to the completion of Solar Spring Break 2019 with drinks, food, and even a solar-powered DJ booth at the Fellowship Summit!
As Solar Spring Breakers, we got to see GRID's mission in action and became a part of an inclusive clean energy transition. In our final debrief, we reflected on the importance of accessibility within the environmental and renewable energy movement and approaching new initiatives and technologies with an environmental justice lens because at the end of the day, the earth is for everyone.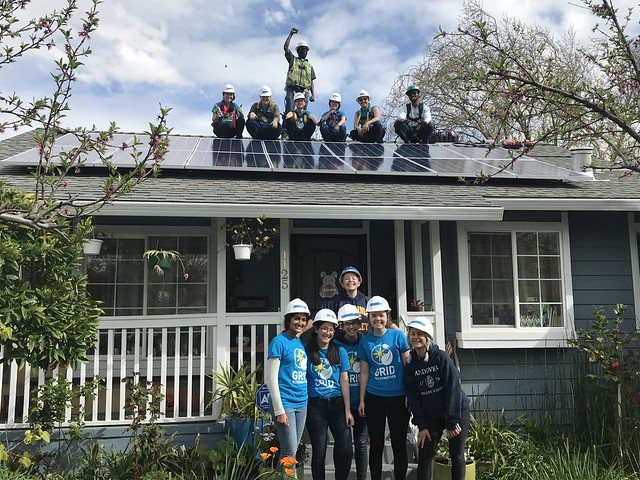 Want to soak up some rays on your spring or winter break while learning to install solar and bringing clean, renewable power to families in need? You can partiipate in Solar Spring Break from any GRID region. Learn more about Solar Spring Break today!