In November 2019, 11 volunteers traveled with GRID Alternatives' International Program to Nicaragua to install a solar system for a coffee roaster at a women's coffee cooperative in El Regadio. Six of the volunteers were also GRID staff, who chose to use their vacation time furthering GRID's mission in another country!
Maricela Tapia, the Volunteer and Training Coordinator from GRID Central Valley, was particularly impressed by two of her fellow volunteers who stood out for their repeat participation in the GRID Alternative's International Program, Scott, fourth-time participant and Cristy, second-time participant. When asked why they volunteer, Scott replied, "I love to travel. It's the best part of my life. To be able to learn a new skill while traveling that may have a profound impact on the future of our planet was a chance that I could not pass up. I've just finished my fourth trip and am already looking forward to planning for the next one in 2020 or 2021. The primary motivation for my first trip was to gain exposure to off-grid solar design and implementation. I quickly realized the importance that a well-developed travel curriculum from GRID combined with a well-researched project site selection and motivated end-users is what has gotten me to return year after year with a keen interest in clean energy solutions and sustainable worldwide economic development". Cristy answered, "I volunteer with GRID because I believe in what GRID does both internationally and domestically. This trip, in particular, was extremely fulfilling because I was able to see growth in the community and a plan for the future. In spite of the circumstances Nicaragua is going through right now, this community looks better today than it did two years ago and I believe GRID plays a huge role in their progress".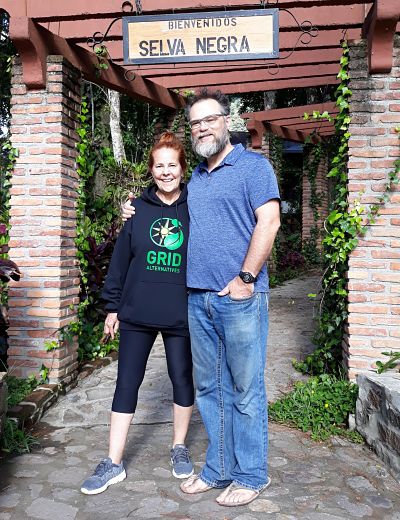 Reasons may vary for volunteering, but one thing is constant, GRID is making a positive difference internationally with the help of most caring volunteers. The GRID International Program staff provided volunteers a vast Nicaraguan culture immersion experience. Each night, volunteers were given articles to get to know the political, cultural and economic situation of the women of the cooperative. Volunteers came to know each other and their host families better as they exchanged thoughts. Nicaraguan people are kind, generous and welcoming. They opened their homes to volunteers as one of their own. The host families spared nothing to take care of the volunteers and to make them feel comfortable, even going to the extent of heating up their bathwater. Volunteers ate and lived as the Nicaraguans did and were most grateful for the littlest of things. With a solar-powered coffee roaster, the women of El Regadio will be able to increase their coffee profits and to help themselves economically, no longer having a roasting expense somewhere else. It is a great feeling to be a part of making the world a better place the GRID Alternatives way!