Every school year for the last eight years, GRID Alternatives Central Valley has partnered with local high schools in the Central Valley to help install solar photovoltaic systems to undeserved communities through the Solar Futures program. This program was created to provide both classroom and hands-on solar education to K-14 students, with an emphasis on high school juniors and seniors. Students have the opportunity to get real-world solar installation experience with GRID and learn about career pathways in the booming solar industry. GRID Central Valley currently partners with over 30 high schools in the Central Valley and with the support of our national partner, SunPower, we are working hard to inspire the next generation of solar leaders.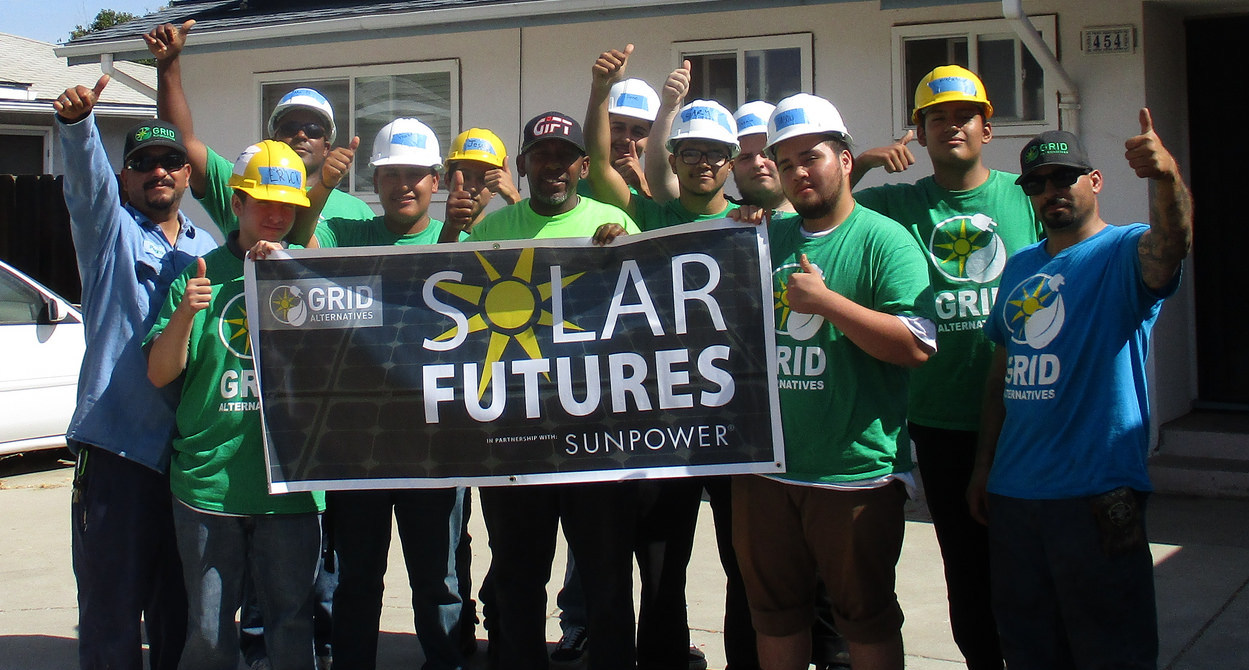 For the last three years, we had the pleasure to work with Andrew Zamora a student at Pioneer Technical Center, a continuation school with the Madera County Office of Education. Andrew volunteered with GRID as a Solar Futures student, contributing 117 hours and participating on eight installations. This provided 31 kW of electrical generation, which brings $272,682 in lifetime savings for low-income families. On May 21st 2018, we presented him with a Certificate of Community Service for the great work he did as a Solar Futures student. Andrew and many other high school students are positively impacting their hometown communities, one install at a time.
By the numbers, the 2017-2018 school year was our greatest year for the Solar Futures program in the Central Valley. Working closely with 16 high schools, we were able to install solar photovoltaic systems on 42 family homes. The systems combined totaled 164 kW installed, which is the equivalent of planting 57,195 trees. Eliminating 2,459 tons of greenhouse gas emissions from going into our environment and saving the families an astonishing $1,062,762 in lifetime savings. In total, the students installed 586 solar panels during the 2017-2018 school year.
Just because the school year is coming to an end does not mean it's the end for some students that wish to learn more about the solar industry. Every summer many high schools throughout California participate in the SunPower Solar Science Academy, which is a week-long, intensive, work-based learning experience that includes lectures from solar professionals, hands-on activities and field visits. GRID Alternatives staff has been invited to the academy to present information regarding our Solar Futures program to the students and to give an overview of our work in the solar industry as the nation's leading nonprofit solar installer.
The future is bright for many of our Solar Future students and we want to thank everyone who makes this possible for them. A special thanks to SunPower for its support of our Solar Futures program. Congrats on a great school year!!