About Us
Our vision is for a rapid, equitable transition to a world powered by renewable energy that benefits everyone.
The environment we all share is not equitable. Underserved communities and communities of color contribute the least to climate change, but they feel its effects the most. 
GRID Mid-Atlantic began serving DC, Maryland, and Virginia residents in 2014. As a local nonprofit organization, we work with public agencies and private organizations to advance environmental and social justice in local underserved communities and communities of color.
We do so by offering solar workforce training, installing no-cost solar power, and advocating for equitable renewable energy policies for residents and families in the District and beyond.
Since our first day, we've helped more than 1,000 families receive solar and delivered hands-on workforce training to nearly 1,000 individuals. Our work has even been featured in national and local media!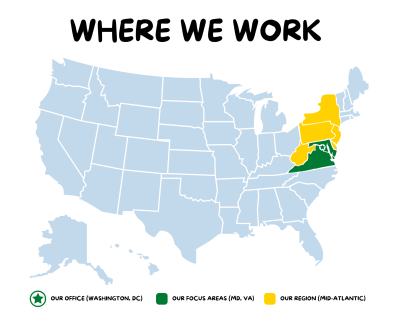 Our programs and initiatives are listed below:
---
Since 2016, GRID Mid-Atlantic has worked with the Department of Energy & Environment (DOEE) to help implement DOEE's Solar for All program. Solar for All seeks to provide the benefits of solar electricity to 100,000 low-income households and reduce their energy bills by 50% by 2032. The program, which was established by the Renewable Portfolio Standard (RPS) Expansion Amendment Act of 2016, is funded by the Renewable Energy Development Fund (REDF).
GRID Mid-Atlantic advances the Solar for All program by offering workforce training and solar installations through Solar Works DC.
---
GRID Mid-Atlantic Solar Works DC brings the benefits of both solar workforce training and solar installations to District residents at no cost. 
Workforce Training 
The Solar Works DC program provides District residents aged 18 and over with new opportunities at rewarding careers through hands-on training and career empowerment. 
Solar Works DC trainees participate in hands-on training cohorts that last seven weeks. During the program, they learn how to install solar through real-world installations that benefit District residents. Solar Works DC also supports trainees through job placement, case management, and an hourly stipend.
Learn more about getting training through Solar Works DC! 
Solar Installations
In addition to workforce training, Solar Works DC helps District residents save money on electricity and lower emissions through no-cost solar installations.
District residents must meet income qualifications in order to have solar installed by GRID Mid-Atlantic. Homeowners who qualify but require additional work to make their homes solar ready (such as re-roofs or electrical upgrades) may be eligible for no-cost professional services organized by GRID Mid-Atlantic. 
Got questions? Learn more about going solar with GRID!
Ready to take the next step? Apply for solar today!
---
Know someone who could benefit from going solar with GRID? Refer them to us! If we install solar on their home, we'll pay you $200. (You don't have to be a client to receive the referral award!)
---
Get Involved!
Here are a few ways you can get and stay involved with GRID: