Khalil Faison won't stop talking about solar. Since he graduated from the Solar Works DC program in December 2022, it's been his favorite topic of conversation.
"I always talk about it," he said. "It doesn't matter if I'm at work, with my family, I'm talking about solar."
Khalil, a District native, started at Advanced Solar in Landover, Md. less than a month after graduating from Solar Works DC. He loves it.
The days go by quickly, his starting hourly wage is the most he's ever made, and he'll be eligible for a raise after 90 days at the company.
He likes his co-workers, too: "When we're in the warehouse, I'm laughing. I could come in grumpy, but when I hear someone I'm laughing," Khalil said.
"I was kind of lost"
Six months ago solar hadn't been on Khalil's mind at all. He was ready to start his career — he just didn't know which way he wanted it to go.
"I have always liked animals, but I didn't want to go back to school to be a veterinarian," he said. "I stopped playing sports, so I couldn't say I was going to be an athlete. I was kind of lost."
No path felt like the right path, so Khalil bounced around frequently looking for something new. It made him feel like he wasn't able to finish anything he started.
Then his friend Kevin urged Khalil to look into the workforce development opportunities at the DC Infrastructure Academy (DCIA). Khalil was one of the final trainees to join the Solar Works DC training cohort last fall.
Reginald Black, a workforce development specialist for DOES, approved Khalil's application to enter the program. He had one condition: "You gotta promise me you won't quit," he told Khalil.
"You don't just get a career—you get a new family"
Khalil and his fellow trainees started the program without much knowledge about solar, but they quickly bonded. They kept up with each other in a large group chat that still is lively today.
He also connected with GRID Mid-Atlantic's workforce training staff: Dominique Leake, Michael Gaskins, and Kennard Carter. All three were Solar Works DC trainees before they became GRID staff members. Now as training supervisors, they are teaching the next generation of solar workers. Khalil saw numerous similarities between their journeys and his life.
"I really feel like the program was one of the best things to ever happen to me," Khalil said. "With the program, you don't just get a career — you get a new family, someone to talk to when you need help. Once you're in it, you're in it forever."
While Khalil was in the program, something clicked. He found what he was looking for. He found more reasons to stay than to leave. And he realized there was more within him than he knew.
"I didn't know I'd be this person who loved solar so much," he said. "But the people around me — Miss Domo, Mr. Mike and Professor K — I really think they brought stuff out of me that I didn't know I had. I already had others pushing me, I just had to do it myself. I was used to not finishing things, but this time I had to see things through."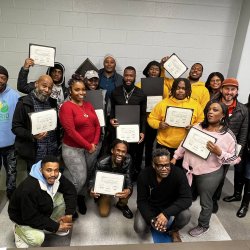 Khalil joined the solar workforce—you can too.
Solar Works DC trainees earn a living wage while learning the skills needed to get into the solar industry. The program includes hands-on training, soft skills development, case management services, and job placement support after graduation.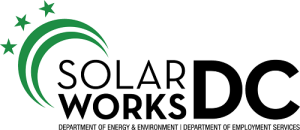 Solar Works DC is part of DOEE's Solar for All program. Solar for All seeks to provide the benefits of solar energy to 100,000 low-income households and reduce their energy bills by 50% by 2032. The program, which was established by the Renewable Portfolio Standard (RPS) Expansion Amendment Act of 2016, is funded by the Renewable Energy Development Fund (REDF).