Pauline has been a Seaport neighborhood resident in Stockton since 1965, living in the original home her family built when they first moved to Stockton. Over the years, Pauline and her family (pictured to the left) have become active members of their community. Pauline has a superb green thumb and frequently attends events put on by Edible Schoolyard, a GRID Stockton Transformative Climate Community (TCC) partner. She loves visiting the Edible Schoolyard community farm to get compost for her own garden and Community Supported Agriculture (CSA) boxes. The healthy, vibrant plants and flowers surrounding her home showcase both Edible Schoolyard's quality compost and Pauline's immaculate gardening skills.
Pauline heard about GRID Alternatives from one of our mailed leaflets, co-branded with the City of Stockton. At first, "[I was] a little hesitant," Pauline told us. "I even mentioned it to my daughter, and she said, 'Mom, nothing is free. You look out for that because there are sharks out there,' which is true." 
But Pauline wanted to dig deeper into our Energy For All program, so she set up a site visit with Summer, a Senior Outreach Coordinator at GRID North Valley, in April of 2022. After Summer walked them through the program, the family was excited to embark on their solar journey with GRID. Then, GRID's Design team got to work; the final design included 5.28 kW of Hanwha Q-Cells modules with one SolarEdge string inverter.
Priscilla, one of Pauline's daughters, reflected on the day of their installation, telling us, "They [GRID's Construction crew] came right when Summer said, and we got lunch for them. They were very professional."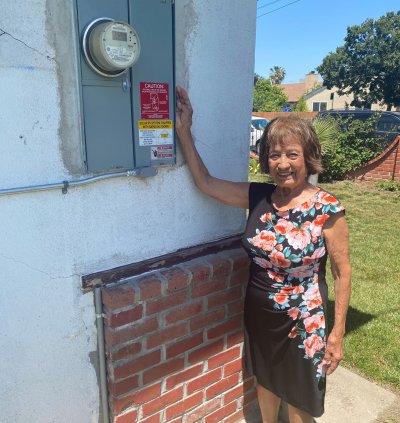 In order to fully qualify for the solar system, GRID was able to help Pauline receive solar-readiness professional services with TCC funding. She was able to get her home's original main service panel upgraded, something that she had started on her own but stopped when she realized it would be too expensive to do. She turned on her system in August of 2022. From start to finish, the project took around four months to complete.
Now that Pauline's system has been producing energy for about a year, Pauline wants to continue building her home's equity with the solar savings her system is generating. "The house always needs something. I want to put a little fence on the [front] porch here for my grandkids because they're little, I could just close the gate and they can just play there. That's my goal, to build up my home and don't let it look like it's old." 
Overall, their system will save approximately $1,477 on their electricity bill each year. After their overwhelmingly positive experience working with GRID, Pauline and her family have referred three people and say they tell everyone they know about our program – they described themselves as GRID cheerleaders! Priscilla shared "I'm trying to share the love with my different friends because it's a wonderful program. Like my mom mentioned, it saves on our bill, and it just makes the earth clean."
Here are the lifetime environmental impacts of Pauline's system:
15.78 cars taken off the road
1,918 trees planted
82.48 tons of carbon removed
For more information about GRID's Energy for All program, visit https://gridalternatives.org/what-we-do/energy-for-all or call (530) 217-6115.