A Stockton resident of 55 years, Ms. Audrey volunteers at the Northeast Community Center three times a week, and twice a week, she takes line dancing classes at Stribley Community Center. Every now and then, when she has "a little time left," she does water aerobics at the In Shape on Pacific.  
Her community spirit led her to Stockton GRID partner, the Rising Sun Center for Opportunity, and to their home energy efficiency upgrade program. At no cost to her, she then received partial re-roof and subsequent solar installation with GRID in June 2022.
Ms. Audrey's roof repair and solar installation were supported by the California Strategic Growth Council's Transformative Climate Communities Program (TCC) with funds from California Climate Investments, a statewide initiative that puts billions of Cap-and-Trade dollars to work reducing greenhouse gas emissions, strengthening the economy, and improving public health and the environment – particularly in disadvantaged communities.
As part of Stockton Rising, the vibrant coalition of community organizations led by the City of Stockton to implement the TCC grant, GRID has served over a hundred South Stockton community members with solar savings and provided new career pathways for residents through our hands-on paid solar job training program. In fact, some of our solar trainees received first-hand experience installing solar on Ms. Audrey's home (she kindly provided refreshments and sandwiches).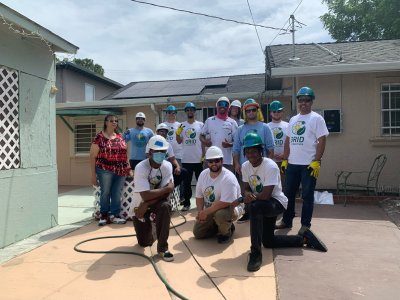 She is looking forward to the $600 of annual savings her new solarized and energy-efficient home is expected to provide, which is estimated to reduce her electric bill by 84%, and save a total of $21,878 over the system's lifetime. "I need all the improvements I can get because I can't afford to pay for it," Ms. Audrey told us, as she has a disability and lives on a fixed income. "I like to go places. I like to do things. So I need to save some money to do that, and every penny helps."
Ms. Audrey's positive experience with GRID and TCC partners is our goal - facilitating transformative household and neighborhood impacts deepened by partners working together. Other Stockton Rising TCC services include Little Manila Rising's free tree planting program and the Edible Schoolyards community baskets of free, fresh food. For more information about our no-cost solar installation program, including solar readiness and program eligibility, you can fill out this form.