Brittney has seen GRID through many lenses. A new SolarCorps Construction Fellow and graduate of our solar Installation Basics Training program (IBT 200), she is also a current resident of Mirasol Village, where GRID Alternatives North Valley is currently installing a 137.9 kW solar photovoltaic system. 
"Everything is new, clean, and everything is green. Mirasol is giving us a better light in life. I worked with Mirasol to help bring different things to my community, such as higher paying jobs, education, and wellness." 
Developed by SHRA and funded by the California Strategic Growth Council's Transformative Climate Communities program, GRID's installation will serve 104 families while providing clean energy workforce development opportunities for residents. This multi-family project will prevent the equivalent carbon emissions of 9,000 trash bags of waste from going to landfill. Solar will offset Mirasol Village's energy costs in common areas, which can then be channeled back into programs and resources for tenants, including a job board, a community garden, a playground, and more.
"By Mirasol offering programs, offering education, and even giving us money just to show up, that's giving people a second chance. The network and outreach need to be in places where low-income people actually kick it, where [they] don't see the light. Make it available."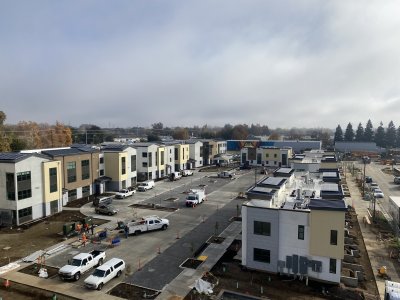 Brittney's GRID Journey
Before Brittney connected with GRID, she had her sights set on being an electrician. With resources provided by Mirasol Village and the help of a friend at Urban Strategies, Brittney enrolled in IBT 200 over the summer. "You sit in the classroom for a solid two weeks, learning the details of wiring, wire management, safety, safety hazards,and solar, then you go out and use it for another two weeks," she told us. "It gave me all the tools I needed to go out there and install solar panels and to understand the safety of it."
Her dedication and mastery of skills helped Brittney stand out during the program. Steve Geiger, GRID's Technical Academy Manager and Solar Training Officer, encouraged her to apply to the SolarCorps Fellowship program. SolarCorps benefits were very attractive to her. "GRID offered me a stipend with education, with longevity, with networking, with things that meant more tangible things for me. That's what GRID brought." 
In the future, Brittney sees herself using the skills and experience she gained through GRID's programs to finish her journey of becoming an electrician, and hopes to start her own business. She also wants to stay involved with GRID. She has deep connections in her community, and wants to share the resources she was able to access with those around her. "I see myself still volunteering with GRID, maybe more in networking and outreach and not so much design, because that's really not my forte, but I'm always open minded. I'm a people person, I still do my business. So, in a few years I see myself in partnership with GRID and fully trained as an electrician with wonderful business relationships."
To inquire about IBT 200 cohort training sessions or the next available SolarCorps year of service, email Claire Laurentine at claurentine@gridalternatives.org. For more information about our Multifamily and Commercial Solar Program or to request a solar suitability assessment for your property, contact Shyla at sblack@gridalternatives.org.