Lynn moved to the Town of Paradise in 2012 to retire in a small town surrounded by nature. She quickly became a fixture in the local yoga community, where she taught popular yoga classes. The morning of the 2018 Camp Fire she was on her way to teach a class when a neighbor called to let her know how quickly the fire was spreading and to evacuate immediately. What was normally a 20-minute drive down the hill took over 4 hours with backed up traffic; people trying to evacuate on the same small road. Lynn lost everything but her car and her dogs in the fire.
"The day after the fire... I said, 'I'm going home. I'm going back to be THE yoga teacher in Paradise,' because so many people need that, need me, and I need them," she told GRID. She said, " I had no idea what it looked like. None. I had no idea what I was gonna do for money. What I would do for work. I mean I had none. I just had this laser focus intention: I'm going home."
As part of GRID's Disaster Recovery Initiative, Lynn is the recipient of our first no-cost solar plus battery storage system installation. Over the past couple of years, GRID has been an active member of the Camp Fire Long Term Recovery Group and ongoing support efforts to build affordable housing while integrating clean and resilient energy technology solutions for fire survivors.
Lynn's newly rebuilt home will feature a yoga space for teaching post-pandemic classes and a guest room should she have to get a roommate to help with expenses in later years. "That's not my house, that's the community's house," she explained. "I told [my students], I have an open-door policy, unless I'm sick, sleeping, or otherwise engaged, come on in, this is your house."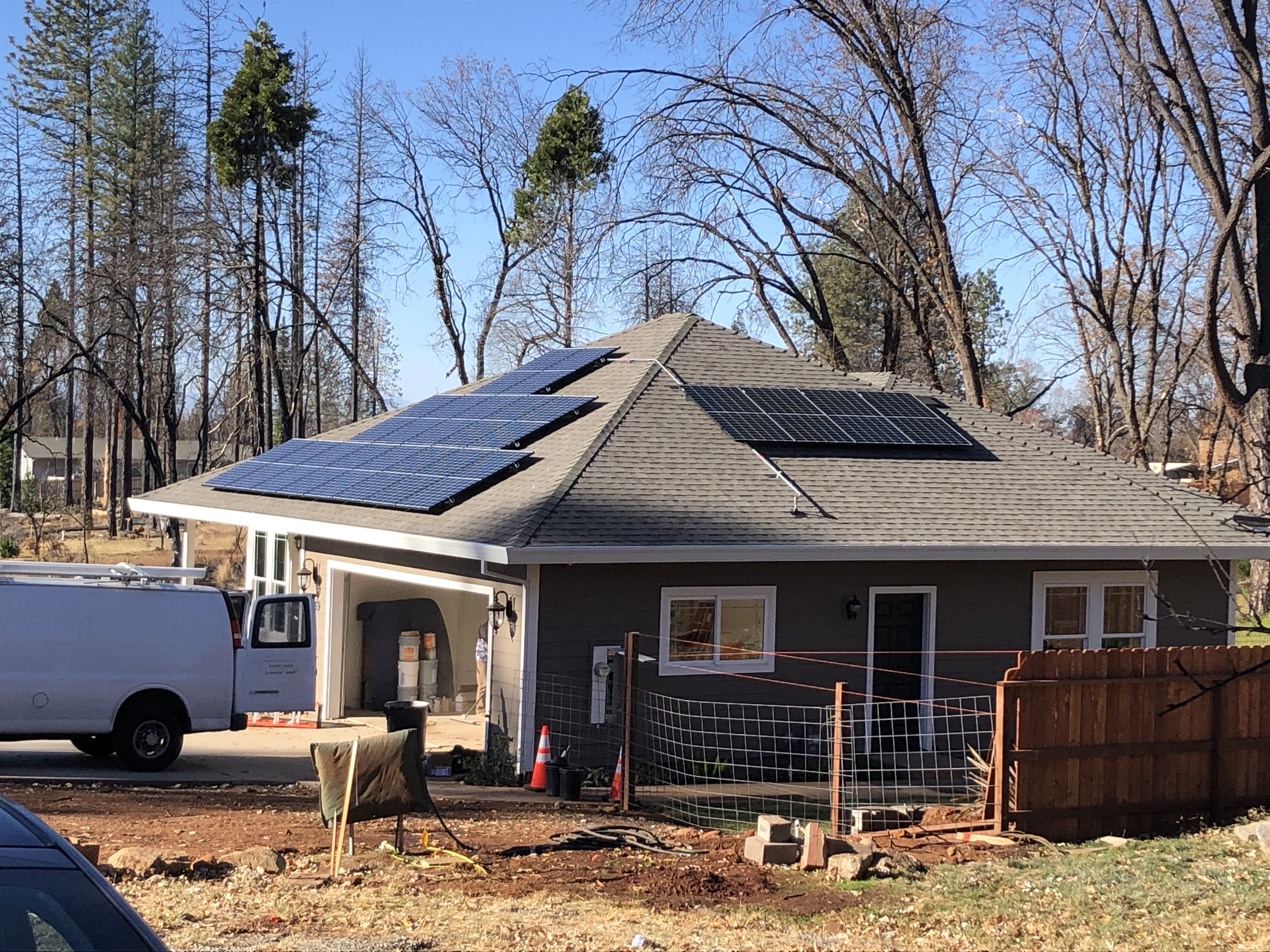 But finances were a big worry for Lynn. "I'm on social security, I just turned 69, and I have 2 serious lung diseases. I haven't worked in a year and a half. I had lost all my jobs, and I did more than teach yoga, I had a pretty active business and community life up there… I was applying for everything I could find for financial assistance and grants and loans.
"Until I started working with [GRID] and realized that with solar, my generator, my electric bill, and my car could be taken off my bottom line, I didn't know if I was going to have enough money to finish this house."
The environmental benefits of solar and battery storage are also very meaningful to Lynn. "I've always wanted to reduce my carbon footprint, so to know that it will be smaller, that my utility use will be less, that I'm not using fuel in my car to go up and down that hill, that I can charge my car in my garage free with my solar panels, and I don't have to use gas to run a generator because now I have battery storage. It makes me feel clean. It makes me feel like I'm contributing… and in so doing, perhaps bring a little more awareness to people up there about our impact on the environment, our own personal impact...because that's where it starts, it starts with me."
Devastating wildfire and increased fire risk leading to longer and more frequent utility public safety power shutoffs are impacting vulnerable communities and people like Lynn. GRID's Disaster Recovery Initiative supports efforts to build affordable housing while integrating clean and resilient energy technology solutions like battery storage for fire survivors to alleviate some of those disparate impacts.
You can help support more people like Lynn with clean energy benefits that also help the planet by making a donation or becoming a sustaining GRID member today! [link]