San Diego
San Diego
GRID Alternatives San Diego bridges the solar divide, bringing solar energy to low-income families who couldn't otherwise afford it while training the green workforce of tomorrow. Be a part of the clean energy transition- become a client, volunteer or make a donation today!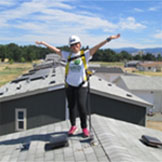 Your gift puts solar power and solar jobs where they are needed most.
Connect With GRID
Follow us on social media:
GRID Alternatives San Diego
930 Gateway Center Way
San Diego, CA 92102
News From the Field
"We need all the help we can get to save the environment. I think about my great grandchildren and what their future will be like."

For many trainees, learning about solar creates community as well as job opportunities

GRID's Communications Specialist, Maisha Kudumu, spent the day with our latest Women's Build crew and learned about their motivation and hopes for a...

Erica needed employment and wanted to do something positive in her community -- for her, solar was the answer.

For Daniel, GRID represented a missing piece in his solar education.