San Diego
San Diego
GRID Alternatives San Diego bridges the solar divide, bringing solar energy to low-income families who couldn't otherwise afford it while training the green workforce of tomorrow. Be a part of the clean energy transition- become a client, volunteer or make a donation today!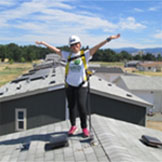 Your gift puts solar power and solar jobs where they are needed most.
Connect With GRID
Follow us on social media:
GRID Alternatives San Diego
930 Gateway Center Way
San Diego, CA 92102
News From the Field
Erica needed employment and wanted to do something positive in her community -- for her, solar was the answer.

For Daniel, GRID represented a missing piece in his solar education.

It is no surprise that the Diggs family are on the forefront of their neighborhood's transition to solar

"As an immigrant and a woman, I've always been fighting for human rights and social justice."

Anthony Crosson loves 'making things work' -- "Putting things together, then turning them on knowing it'll stay there for years to come. It feels...