San Diego
San Diego
GRID Alternatives San Diego bridges the solar divide, bringing solar energy to low-income families who couldn't otherwise afford it while training the green workforce of tomorrow. Be a part of the clean energy transition- become a client, volunteer or make a donation today!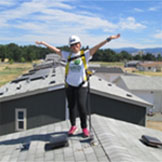 Your gift puts solar power and solar jobs where they are needed most.
Connect With GRID
Follow us on social media:
GRID Alternatives San Diego
930 Gateway Center Way
San Diego, CA 92102
News From the Field
Local refugee youth forge new careers in solar power after training with GRID.

Community Appreciation Day will bring together renewable energy advocacy groups, local officials and GRID clients and volunteers to learn about the...

This installation, which took place on World Refugee Day, has offered participants an important glimpse into what solar installation entails. Some of...

"We have to preserve this planet for future generations, or what will they have?"

When we put solar on a home, much of the energy it produces ends up back on the power grid, earning credits that offset electricity purchased from...