San Diego
San Diego
GRID Alternatives San Diego bridges the solar divide, bringing solar energy to low-income families who couldn't otherwise afford it while training the green workforce of tomorrow. Be a part of the clean energy transition- become a client, volunteer or make a donation today!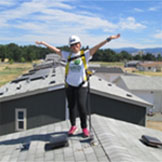 Your gift puts solar power and solar jobs where they are needed most.
Connect With GRID
Follow us on social media:
GRID Alternatives San Diego
930 Gateway Center Way
San Diego, CA 92102
News From the Field
"As an immigrant and a woman, I've always been fighting for human rights and social justice."

Anthony Crosson loves 'making things work' -- "Putting things together, then turning them on knowing it'll stay there for years to come. It feels...

Last month, over a dozen trainees got hands-on experience installing no-cost solar for a family in southeast San Diego as part of the NAACP's Solar...

As Jarell approached his 18th birthday, his hometown of Passaic, New Jersey began to get smaller and smaller. He became acutely aware he had never...

Chris and Bernie Waters have lived in their San Diego home, which they bought from Chris's parents, for many years. Home ownership is important to...