As the holidays are underway and people prepare to spend time with their families, the ongoing COVID-19 pandemic continues to put a damper on celebrations and gatherings. For the members of the Campo Band of Mission Indians, it also means having to face the brutal reality  of going without electricity. "It's a part of life now," says Tribal member, Angelita Anderson. "There are a lot of power shut offs."  While resilience and regeneration are in their heritage, these shutoffs have Campo members thinking  about renewable energy now more than ever.
***
"It's so important because of the location and how often we get power outages," says Campo's Housing Director, Sandra Burkhimer.  "It's not just the lights but also water.  A lot of people have wells and having backup batteries will help."  The Campo Housing Office's mission is to help  as many families as possible secure and maintain housing.  For Sandra,  this also includes supporting families' affordable, renewable energy goals.  Sandra says the Tribe's partnership with GRID Alternatives (GRID) over the last couple of years has helped a lot of families in her community to meet those goals.  Through state funded programs such as Disadvantaged Communities-Single Family Solar Homes (DAC-SASH) and Self-Generated Incentive Program (SGIP), GRID has been able to install solar for 19 Campo families, some of whom have also received battery storage.  
***
 "If I can also help families with their energy costs, that is a plus," says Sandra.  "Lowering the costs helps people who are struggling  to afford housing, are facing homelessness,  or are overcrowded in their homes.  GRID has helped us make going solar a reality for those who need it most "  A lot of this work this is made possible through GRID's Tribal Solar Accelerator Fund (TSAF), a Tribal-led philanthropic program that provides new funding to Tribes to support their renewable energy projects, particularly in a way that engages broad tribal community participation.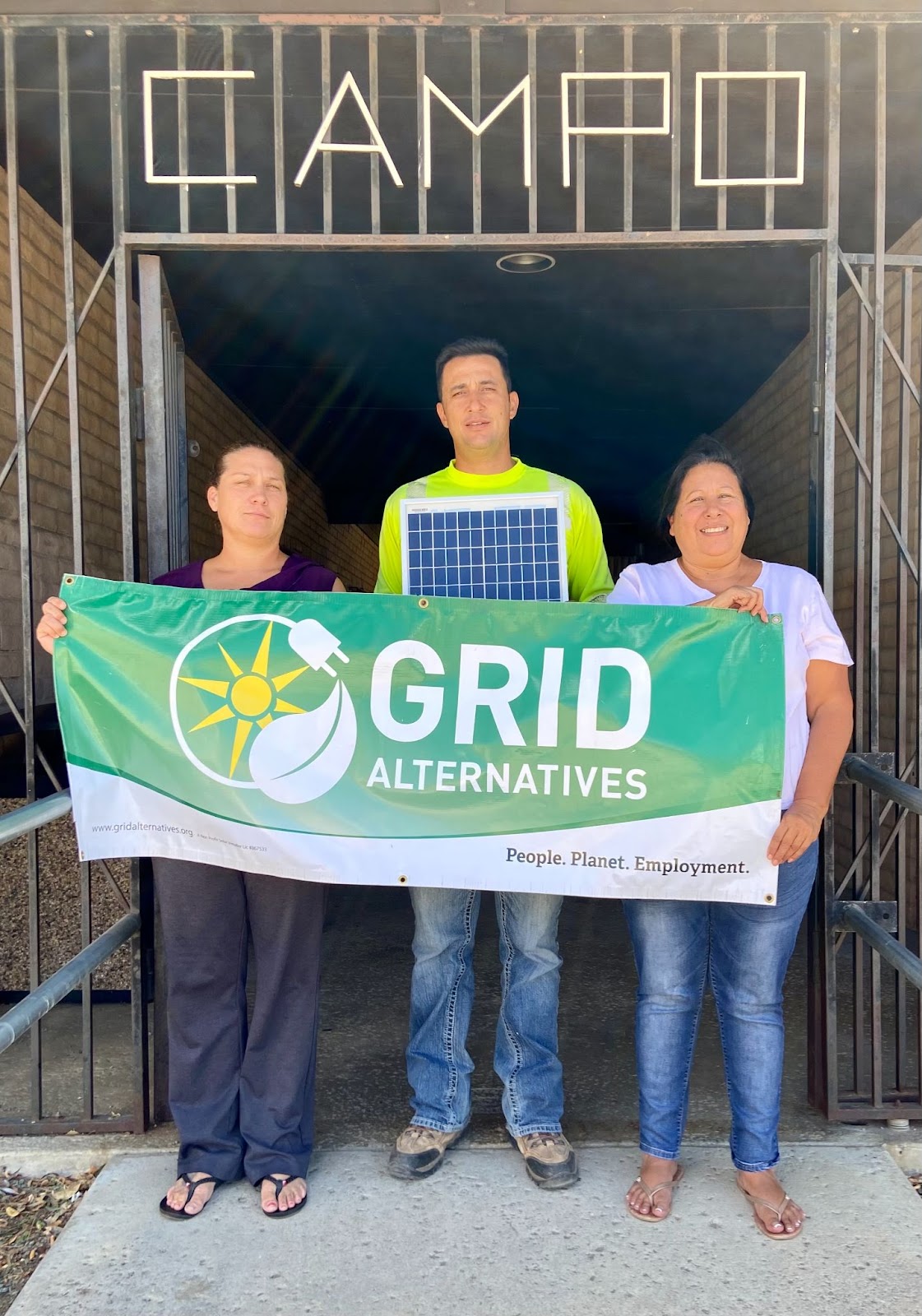 Since 2019, GRID has worked with the Campo Band of Mission Indians to reach 19 Tribal families. GRID typically leverages state and federal incentives to make solar affordable for communities of concern. There are often challenges and limits to these funding sources, though, and that is where TSAF comes in—to provide unrestricted funding and assist in getting Tribal communities across the finish line. Through TSAF, GRID was able to install solar on 10 tribal homes for a total of 44.39 kW. Each of these households are income-qualified—most of them with children and/or elderly counterparts—and their new systems will generate significant energy cost savings per home.
Angelita and Sandra both acknowledge the Tribe's renewable energy goals have changed dramatically since they were children.  "They didn't exist before; there wasn't really anything like that. Today, we have solar, batteries and wind turbines."  As their energy needs change and more of their community begins to benefit from solar and battery storage, the Tribe has been adapting the designs of new homes to be solar-ready and more energy efficient with measures like tankless water heaters and transfers.
Sandra is a big proponent of solar at Campo because she recognizes the changing household dynamics of the families in her community. Stepping up as the head of her household, which includes small children and other family members, Sandra knows the importance of saving money.  "Solar has been amazing, I haven't had a bill that has been more than $20 since it was installed.  Sometimes, I even have credit." With so many other uncertainties, not having to worry about her electric bill is a big relief for Sandy.  She wants the same for other families.  Folks are often skeptical because they always think there is a catch, that maybe the services are not actually no-cost.  "As more people get it, more people want it." Sandra is excited about that and the opportunity to bring more relief to other Campo families.
***
At GRID, we share those same priorities of family and community.  "I signed up for solar because the Tribe wanted to offer something to families who needed it," says Angelita.   "Not only to help with bills but to create better solutions to make the community more eco-friendly and introduce renewable energy."  Angelita and her family's clean energy goal is not just about what is cheaper for their family, but also what is going to make a difference in their community.  The family of six, including four children, make it a point to pray together each night for the needs of everyone.  Angelita knows so many in her rural community need help, and she empathizes with those concerned about the constant power shut offs.  "Everybody needs a phone because we don't have access to anything.  We branch out via the web, that's how we communicate.  When the power goes out, we lose our only form of communication."  Angelita, who has been homeschooling her youngest since COVID started, is awaiting the possibility of more funding for battery storage to make her home more secure in the face of the outages.  GRID Alternatives is grateful for community leaders like Angelita and Sandra and continues to advocate for the renewable energy needs of our Tribal partners and Tribal families.  To learn more about our efforts and successes and how you can contribute to help these communities, please go to https://tribalsolar.org/.