North Valley
North Valley
GRID Alternatives helps low-income families save money while bringing clean solar energy onto the grid, and providing volunteers and job seekers with hands-on experience in solar. Since 2011, the North Valley office has been helping families go solar throughout northern California, from Sacramento to Siskiyou county. Be a part of the clean energy transition- become a client, volunteer or make a donation today!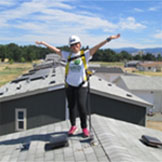 Your gift puts solar power and solar jobs where they are needed most.
Connect With GRID
Follow us on social media:
GRID North Valley
Two locations serving 20 counties in the North State
3860 Morrow Lane, Suite A
Chico CA 95928
1417 N Market Blvd, Suite 3
Sacramento CA 95834
News From the Field
Taking advantage of a opportunity when it's present is exactly what Sterling accomplished. We met Sterling earlier this year in April when he started...

GRID has partnered with UC Davis Humphrey Fellows once again this year. Fellows joined us at our CA Adaptation Forum; Clean Technology tour and even...

Sam Laveson is a sophomore studying Geology and Earth Sciences at the College of William & Mary who led GRID's first Solar Spring Break...

Taylor R., a freshman at Prairie View A&M University, joined GRID NV this summer to learn more about solar from local rooftops. He shared about...

We recently reached a huge milestone by installing our 10,000th solar electric system in Rancho Cordova! To celebrate this huge accomplishment,...