North Valley
North Valley
GRID Alternatives helps low-income families save money while bringing clean solar energy onto the grid, and providing volunteers and job seekers with hands-on experience in solar. Since 2011, the North Valley office has been helping families go solar throughout northern California, from Sacramento to Siskiyou county. Be a part of the clean energy transition- become a client, volunteer or make a donation today!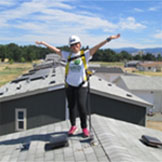 Your gift puts solar power and solar jobs where they are needed most.
Connect With GRID
Follow us on social media:
GRID North Valley
Two locations serving 20 counties in the North State
3860 Morrow Lane, Suite A
Chico CA 95928
1417 N Market Blvd, Suite 3
Sacramento CA 95834
News From the Field
Many adults and children had so much fun at our kiosk to spinning our prize wheel and taking photos with Sunny the Solar panel.

November 8th marked the one year anniversary of the Camp Fire, one of the most destructive wildfires in California history. This event personally...

GRID Alternatives North Valley has been selected for the Sacramento Kings' Spotlight on Sustainability Night. Using basketball as an agent of change...

GRID North Valley client Frank Funes, who lost his home in the 2018 Camp Fire, shares the impact of the recent power outages and how solar paired...

Can you believe we've reached our final Installation Basics Training (IBT 200) cohort of the year? The end of September marked a new partnership with...