When Dariyn Choates graduated from Sacramento State in the Spring of 2021, he didn't know much about solar. A former football player with a fresh Bachelor's degree in Sociology, Dariyn decided to enroll in GRID's solar installation basics training program, Clean Energy Career Pathways, to learn more about solar and the career opportunities available to him. After excelling in the program, Dariyn was hired by Villara Building Systems in Sacramento shortly after graduating and began working as a solar installer. 
But Dariyn had big dreams even before beginning his career in solar. In May 2021, when GRID asked him what he hoped for his future, Dariyn said, "Hopefully I want to actually open my own solar company - be a Black-owned solar company here in Northern California." Throughout the program, he talked about the possibility of opening his own solar business but knew that he wanted to gain a bit more experience in the industry first. 
With all the houses he was installing solar on, Dariyn saw that there was a continued need for solar panel cleaning services to improve system efficiency, especially in the smog-filled valley. Within a couple of months of working as an installer, Dariyn started to build the foundation of what is now Soular Solar Panel Cleaning. "I always had an interest after taking this program with GRID that I wanted to do something in the solar industry, but I wasn't sure what. My man Steve Geiger [GRID's Technical Academy Manager] helped me out a lot, led me in the right direction, taught me a bit about it so I could do my own research, and got it going."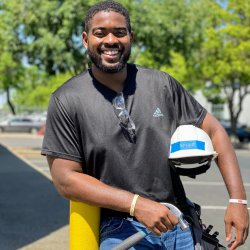 When asked how he came up with the name, Dariyn said, "Honestly, it had a nice ring to it, I kept saying it in my head. And then I was like 'Oh, Soul!' It's Black History Month, so it fits too." Through his experience with GRID Alternatives, his on-the-job learning at Villara, and his own dedication and entrepreneurial spirit, Dariyn was able to start Soular where he says "we add a little soul to systems." GRID gave him the tools and direction he needed to feel confident in starting his business, and understanding what he needed to make it successful. 
Dariyn's advice to people who want to start their own business or try something completely new? "Take it day by day! Ask questions, learn as you go," But mostly, "Just start! I played college football, graduated with a Sociology degree, and had no knowledge at all. You just have to have a want and desire." Dairyn's confidence, determination, and success is inspiring to see!
Soular Cleaning operates all over the Sacramento area, from the city of Sacramento to Rancho Cordova and Folsom. If you are interested in getting your solar panels cleaned and seeing how optimally clean solar panels run, contact Dairyn at (831) 760-5144 or send an email to SoularCleaning@gmail.com and support a Clean Career Pathways graduate's business!