Central Valley
Central Valley
GRID Alternatives Central Valley leads teams of volunteers and job trainees in installing solar electric systems for low-income families living in San Joaquin County to the north through Kern County in the south, providing families with needed savings and giving workers hands-on experience to help them find jobs in the green-tech economy. Be a part of the clean energy transition- become a client, volunteer or make a donation today!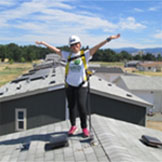 Your gift puts solar power and solar jobs where they are needed most.
Connect With GRID
Follow us on social media:
GRID Central Valley
4140 N. Brawley Avenue, Ste. 108
Fresno, CA 93722
General inquiries
infofresno@gridalternatives.org / 559.261.4743
Individual volunteering
volunteerfresno@gridalternatives.org / 559.490.2368
Volunteer with GRID Alternatives - Central Valley (video)
Donations and corporate sponsorships
jarreguin@gridalternatives.org / 559.490.2394
Clients
baguilar@gridalternatives.org / 559.261.4743
Weather Line / 559.558.5929
News From the Field
California State University, Fresno, (CSUF) has been committed to improving students education while helping the community in the Central Valley...

On Valentine's Day, and for the second year in a row, GRID Alternatives Central Valley hosted 34 students and two professors from the Universidad...

Bridges at Florence, a low income multi-family housing complex receives solar panels

Five volunteers and six GRID staff volunteers from the United States donated their time to help make possible the installation of a solar system and...

The SunPower Solar Academy is a week-long, intensive, work-based learning experience for high school students that includes lectures from...