Central Valley
Central Valley
GRID Alternatives Central Valley leads teams of volunteers and job trainees in installing solar electric systems for low-income families living in San Joaquin County to the north through Kern County in the south, providing families with needed savings and giving workers hands-on experience to help them find jobs in the green-tech economy. Be a part of the clean energy transition- become a client, volunteer or make a donation today!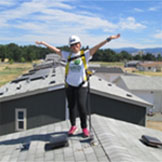 Your gift puts solar power and solar jobs where they are needed most.
Connect With GRID
Follow us on social media:
GRID Central Valley
4140 N. Brawley Avenue, Ste. 108
Fresno, CA 93722
General inquiries
infofresno@gridalternatives.org / 559.261.4743
Individual volunteering
volunteerfresno@gridalternatives.org / 559.490.2368
Volunteer with GRID Alternatives - Central Valley (video)
Donations and corporate sponsorships
jarreguin@gridalternatives.org / 559.490.2394
Clients
baguilar@gridalternatives.org / 559.261.4743
Weather Line / 559.558.5929
News From the Field
For the third consecutive summer, Orosi High School invited GRID Alternatives to be part of the SunPower Solar Academy. The SunPower Solar Academy is...

Imagine the heartache of finding out that your little girl was diagnosed with cancer. The financial stress of the utility bill alone would bring one...

Greetings from your friends over at GRID Central Valley. Today I'd love to share some amazing news with you all! Our very own IBT-200 trainee, Johnny...

We are very lucky and would like everyone to meet Artemio Quintana! He is one of our new construction guys and signed on as our Warehouse Technician...

I learned that you don't need a big space to make a big impact on a community. This entire week was amazing because I felt like part of a team and...