Central Valley
Central Valley
GRID Alternatives Central Valley leads teams of volunteers and job trainees in installing solar electric systems for low-income families living in San Joaquin County to the north through Kern County in the south, providing families with needed savings and giving workers hands-on experience to help them find jobs in the green-tech economy. Be a part of the clean energy transition- become a client, volunteer or make a donation today!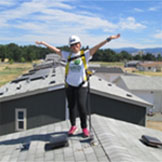 Your gift puts solar power and solar jobs where they are needed most.
Connect With GRID
Follow us on social media:
GRID Central Valley
4140 N. Brawley Avenue, Ste. 108
Fresno, CA 93722
General inquiries
infofresno@gridalternatives.org / 559.261.4743
Individual volunteering
volunteerfresno@gridalternatives.org / 559.490.2368
Volunteer with GRID Alternatives - Central Valley (video)
Donations and corporate sponsorships
jarreguin@gridalternatives.org / 559.490.2394
Clients
baguilar@gridalternatives.org / 559.261.4743
Weather Line / 559.558.5929
News From the Field
This month we would like to spotlight Ernest Ray Richardson (Ernie), one of our dedicated and versatile board members for GRID Alternatives Central...

Each Sunrise is a fresh start… a new day… a brand new pencil on an empty page – Linda Poindexter

"I never even considered solar installation as an option before I started the Troops to Solar internship."

GRID Central Valley wants to say "THANK YOU" to our SolarCorps Fellows that are finishing their term of service and "WELCOME" to our new SolarCorps...

SunPower Solar Science Academy inspiring the next generation of solar leaders.