Central Valley
Central Valley
GRID Alternatives Central Valley leads teams of volunteers and job trainees in installing solar electric systems for low-income families living in San Joaquin County to the north through Kern County in the south, providing families with needed savings and giving workers hands-on experience to help them find jobs in the green-tech economy. Be a part of the clean energy transition- become a client, volunteer or make a donation today!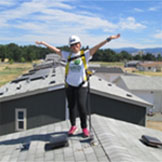 Your gift puts solar power and solar jobs where they are needed most.
Connect With GRID
Follow us on social media:
GRID Central Valley
4140 N. Brawley Avenue, Ste. 108
Fresno, CA 93722
General inquiries
infofresno@gridalternatives.org / 559.261.4743
Individual volunteering
volunteerfresno@gridalternatives.org / 559.490.2368
Volunteer with GRID Alternatives - Central Valley (video)
Donations and corporate sponsorships
jarreguin@gridalternatives.org / 559.490.2394
Clients
baguilar@gridalternatives.org / 559.261.4743
Weather Line / 559.558.5929
News From the Field
A positive attitude and a lots of prayers helped make all of this possible.

"What is the essence of life? To serve others and to do good." – Aristotle.

In the 90's, Vivian Ellen Cooks met her husband and ultimately they decided to combine their households and created a blended family. Vivian and...

Come out and volunteer with GRID Central Valley. (VIDEO)

Anuj Thakkar has a passion for renewable energy, battery storage technologies and micro grid solutions.