Central Valley
Central Valley
GRID Alternatives Central Valley leads teams of volunteers and job trainees in installing solar electric systems for low-income families living in San Joaquin County to the north through Kern County in the south, providing families with needed savings and giving workers hands-on experience to help them find jobs in the green-tech economy. Be a part of the clean energy transition- become a client, volunteer or make a donation today!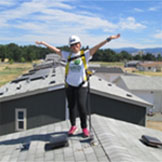 Your gift puts solar power and solar jobs where they are needed most.
Connect With GRID
Follow us on social media:
GRID Central Valley
4140 N. Brawley Avenue, Ste. 108
Fresno, CA 93722
General inquiries
infofresno@gridalternatives.org / 559.261.4743
Individual volunteering
volunteerfresno@gridalternatives.org / 559.490.2368
Volunteer with GRID Alternatives - Central Valley (video)
Donations and corporate sponsorships
jarreguin@gridalternatives.org / 559.490.2394
Clients
baguilar@gridalternatives.org / 559.261.4743
Weather Line / 559.558.5929
News
Ivan is a GRID client and passionate community advocate of our program who was instrumental in getting solar installed on 40 homes in his...

Meet Ugochukwu (Ugo)! Ugo studied solar installation with our partner organization, Proteus Inc. After the first install with GRID Alternatives and...

Some of the unsung heroes here at GRID Alternatives work in the background. Generous people that are willing to share their knowledge and time to...

In 2018, Cristian Tello heard about GRID Alternatives from a radio announcement. Although he didn't know anything about solar, he was interested in...

MEET OSCAR! Oscar is GRID's Project Designer/Solar Installation Supervisor. Oscar's solar career began early on in his life. Oscar found GRID...