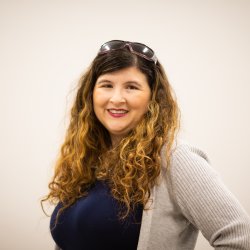 Karina Gonzalez, Co-Executive Director
Karina brings over 16 years of experience in community outreach, education, and training. Joining the team in 2011, she has driven the GRID mission forward serving homeowners, job trainees, and building partnerships. She thrives in challenging situations, always looking for ways to improve department outcomes and program offerings. She is passionate about serving and meeting individual needs. If not in her office, she can be found interacting with participants in the four training programs she helped to develop. Working alongside the Central Valley team, she envisions a new map for serving the needs of the CV region. Her roots run deep as she has lived in Fresno County for over 30 years. She currently resides in Fresno with her husband and four wonderful children.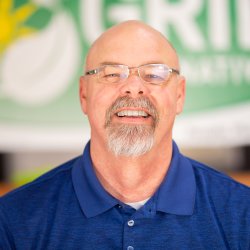 David Griffin, Co-Executive Director
David graduated from CSU, Fresno with a B.S. in Business Administration-Accountacy. His work history includes retail sales, construction, insurance, and teaching prior to joining GRID Alternatives in September, 2010. David began volunteering with GRID after looking for a career that was socially, environmentally, and personally satisfying. As David volunteered often, he learned more about GRID Alternatives, it's mission and goals, and decided to join the Central Valley Fresno team.
Construction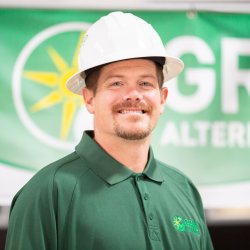 Kenneth Mull, Senior Solar Installation Supervisor
Kenneth Mull is an energetic, hard-working Solar Installation Supervisor at the Central Valley office. He has a multitude of construction skills and experience in carpentry, cabinetry, roofing, and solar PV. As a community volunteer with GRID, he quickly became a Team Leader and developed a passion to learn and grow with the solar industry. He went on to work with JT Solar for a few months and then applied with GRID and has been here since March 27th, 2017.
Projects Team
Jackie Brown, Construction Project Manager
Jackie is a full time student at Fresno State and majors in Construction Management. She started working with GRID as a Solar Installation Intern but now has been promoted to Construction Project Manager. She gained her knowledge of solar through the AERO Academy at Porterville High School where she also learned other forms of alternative and renewable energy such as wind power, biofuels, and more. She started volunteering with GRID her senior year of high school and has decided to make a career in the field of alternative and renewable energy. Her favorite part about the job is being able to wear her pink hardhat because she is a strong supporter of women in trades and loves seeing another female getting her hands dirty out on the job site.

Outreach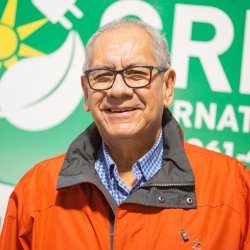 Tom Esqueda, Outreach Manager
Tom has over 20 years of experience in affordable housing programs and has worked for local government agencies and non-profit organizations. Tom has lived in Fresno all but 38 months of his life and graduated from Fresno State University with a Business Marketing degree. Tom is proud to be a platelet donor of over 23 years, and averages 20 donations per year.
Workforce & Volunteering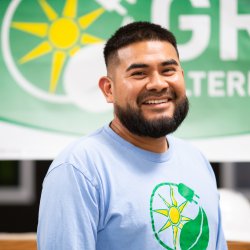 Eric Cortes, Workforce and Training Programs Manager
Eric was born in San Jose, California, but was raised in Madera. He moved to Fresno about seven years ago. He just returned to college after 9 years and is working on a degree in Business. Before coming to GRID Eric worked in the finance field for 4 years as a personal loan executive for Citi. Eric enjoys watching football on Sundays. He also likes to take his family to visit different amusement parks around California. He loves helping the community as much as he can and is really excited to be at GRID.
Workforce Administration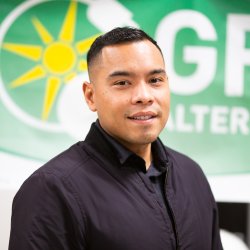 Casildo Aguilar Varbarin, Workforce Administrative Manager
Casildo was born in Selma and raised in Fresno, California. His journey with GRID Alternatives started with graduating from our Installation Basics Training (IBT) 200 in May of 2021. After graduating from the program and entering the industry as a residential/commercial solar installer, he was met with the opportunity to develop new skills through a SolarCorps Fellowship Program in our Workforce Department. After his fellowship term, he was met with yet another opportunity to continue to be part of the life changing work being done here at our GRID Central Valley's Training Center. In August of 2022, Casildo was hired on as our Workforce Training Programs Coordinator. Casildo believes in the value of an opportunity and describes that his work is an enriching factor of his life as it allows him to witness the amazing success that people achieve through these training programs.