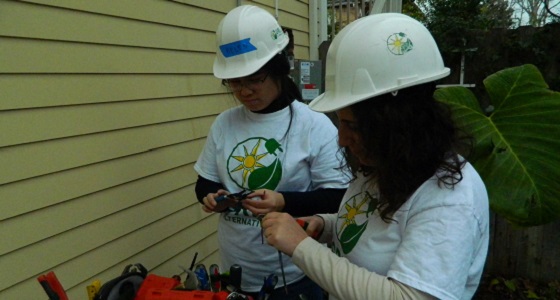 Cold weather couldn't hold back Sacramento State University volunteers' enthusiasm to install solar with GRID. Through our partnership with the Honnold Foundation, we engaged students in a service-learning opportunity to take climate action in their community. The students helped install solar for Ms. Amey's home in West Sacramento. The solar system is expected to save Ms. Amey $19,860 over the next 20 years.
Aaron, a first time GRID volunteer, shares his experience, " I thought it was really interesting that we were given the opportunity to volunteer, usually this type of work comes through an internship. I didn't have a lot of knowledge about solar energy prior to learning about GRID, only what I had seen on television. Today's installation makes me think of my own family. If we knew about this access to renewable energy, it would have benefited us greatly, so I'm just glad that I am able to volunteer here today."
The students spent the day learning about solar technology while also experiencing the impact one can have on their local community by just spending a day giving back. We thank the Honnold Foundation for opening these opportunities for groups to experience the power solar can truly produce for one family, one neighborhood at a time.