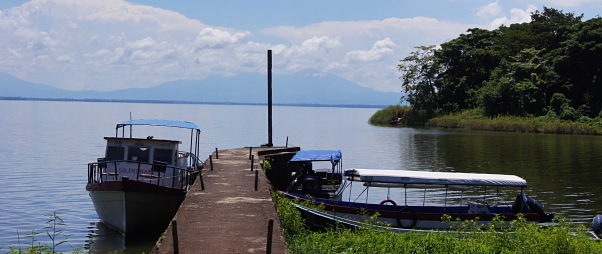 The Solentiname Islands are an archipelago of volcanic islands located at the southern end of Lake Nicaragua, in the Nicaraguan department of Río San Juan. The archipelago is made up of 32 smaller islands and four larger islands, each about a few kilometres across, one of which is San Fernando island.
The natural beauty of the San Fernando island sometimes runs in constrast to the challenges faced in the community, where a lack of potable water, energy access and job opportunities can affect the quality of everyday life. Many families make their income working in agriculture or creating colorful handmade art in "taba" wood. Without access to electricity, families typically light their homes using flashlights or kerosene lamps and candles, which poses both safety and health risks.
Local women paint handmade crafts made from taba wood
With the installation of ten solar home system, families will gain access to a clean, reliable source of energy for the first time, providing power to charge electronics and a safe and healthy means of lighting their homes to study and do other activities at night. GRID staff will install the systems with local Nicaraguan participants that are interested in learning about solar PV installation. Participants will gain practical, hands-on training, learning the process of installing the solar home systems from start to finish.
GRID participants gain hands-on skills, learning the process of off-grid solar home system installation from start to finish