While most college students are looking forward to a week spent relaxing and enjoying some beautiful spring weather, nearly 200 students are preparing to soak up the sun a little differently this year: from a rooftop! Students from fifteen schools across the country will spend their breaks installing solar for low-income families and getting hands-on workforce training in the solar industry as part of our Solar Spring Break program.
GRID staff will spend the next two months leading teams students in solar installations across California, Colorado and Washington, D.C, beginning February 27th with the University of Michigan in San Diego. Now in its fourth year, the alternative break program creates an opportunity for students to experience solar first-hand and learn about the energy and environmental issues facing low-income communities while gaining a foothold in one of America's fastest-growing industries. Solar Spring Break is sponsored by Wells Fargo, which has underwritten the program's expansion this year with a focus on schools serving diverse populations.
"[Solar Spring Break] was deeply eye-opening, mind opening and heart opening," said Jasmine Tan, an undergraduate at Duke University who participated in 2016. "I felt so much more connected, not only to the solar and sustainability industry, but also to a whole new community and network."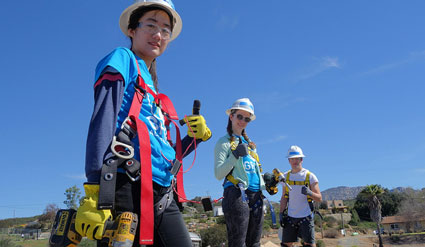 Teams of 10-12 students from each school will travel to different project sites around the country and spend the week on a combination of solar installations, renewable energy industry tours, and neighborhood outreach. Students from University of Massachusetts and Massachusetts Institute of Technology will be meeting with Homeboy Industries, a Los Angeles-based nonprofit helping former gang members and incarcerated individuals join the clean energy industry. North Carolina Central University, a historically black university participating for its second year, is sending two teams to San Diego to install solar for the San Pasqual Band of Mission Indians.
"I think the service experience that the students get is unique, and the educational experiences they get along the way are invaluable," said Anna Sylvester Gilmore, Assistant Director of Community Service Programs and Events at Northeastern University. "I think all service activities have value, but this one in particular is a great resume-builder for participants while at the same time allowing them to make a tangible, long-term impact on the community."