"I admire all those who have been breaking social paradigms. They have shown us that as women we are capable and we can do efficient work in solar energy and that we always go beyond. We are now empowered women who can develop clean energy projects that benefit our communities, school, and environment with the vision of improving our quality of life." - Valentina Silva, Nicaragua IBT 200 Trainee.
This International Women's Day, we would like to celebrate each and every woman we have the honor of learning and working with. In particular, we would like to highlight the women who are a part of our International Program. 
GRID Alternatives' International Program works together with communities in Nicaragua, Nepal, and Mexico to address critical energy needs, installing solar electric systems to power; homes, health centers, small businesses, farms, orphanages, and schools. In Nicaragua, we also reduce local pollution and improve health outcomes, especially for women, by installing improved cookstoves for rural families. For more than 10 years, these systems have been providing residents with basic services, removing obstacles to sustainable growth, and creating economic opportunities for families and communities. 

Valentina Silva is a trainee from our IBT 200 program in Nicaragua. When asked what excites her about being a part of the solar industry, she shares that it is "the acceptance that clean energy is receiving, as more and more people are becoming aware of the environment and opting for the use of photovoltaic energy." She adds that she is particularly excited about "the role that Nicaraguan women are playing within this industry."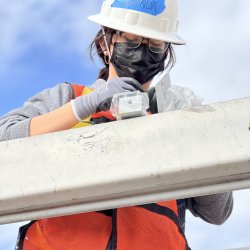 In Mexico, Brenda Ibarra is in her 6th semester of Engineering in Renewable Energy at the UABC (Universidad Autónoma de Baja California). She participated as a trainee in our first project in Mexicali, installing solar for a local orphanage. She shares, "for me, solar is the way in which we can mitigate most of the climate change effects in the air quality of Mexicali. And if we have too much of something in Mexicali, it's solar resources!"
GRID's local staff and partners maintain relationships with the communities we serve to ensure that their long-term energy needs are being met. Local and international trainees, like Valentina and Brenda, gain hands-on experience installing solar systems and contribute to a lasting impact in a community. 
You can be a part of this lasting impact. Support women working for clean energy and healthy communities around the world. Make a donation to our International Program today.