Solarthon's a celebration for all of us! On June 10, GRID Alternatives Greater Los Angeles relaunched exciting initiatives that let us partner with people of Pacoima/Sun Valley in Los Angeles … and we brought things to the public eye with fun and teamwork by kicking off a Pacoima Solarthon! A Solarthon is the largest single event of solar installation that we do at GRID, and this year there was no better place to do it than in our beloved Northeast Valley communities – including a starting and ending meetup at the Boys and Girls Club San Fernando Valley in Pacoima, and teams walking to solar installations in the blocks nearby. Plus, there was no better candidate to team up with on our fun-filled Friday than Wells Fargo volunteers, whose support for our energy programs inside and outside Pacoima has been key to our growing success.
Learn more about our initiatives in these part of the city at our Green Together Collaborative page: www.greentogethercollaborative.org.
Today, June 11, the fun continues as part of Solarthon. In fact, our final day of the 2022 event is even more engaging for members of the public, because we've opened up a public event at Pacoima City Hall that will feature food, education, and chances to "plug in" to our solar programs and solar workforce training.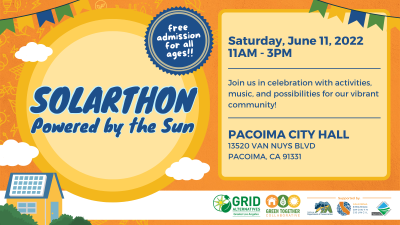 We hope that everyone who's interested in our local work can stop by the PCH space today, grab refreshments and face paint, and start your summer with GRID Solarthon fun! Musicians like Mariachi Juvenil de Jalisco and Dream Team Family Brass Band will be playing, and a fun-filled raffle of great prizes is sure to get kids excited!
All the while, we're having a great time this summer weekend by putting renewable energy on the rooftops of local Pacoima stakeholders. There's no better project to signify in a big way that we're in the neighborhood, and using the GTC resources leveraged by our Transformative Climate Communities program to make a giant impact!
Hope to see you:
  Solarthon
  Pacoima City Hall
  13520 Van Nuys Blvd., Pacoima, CA 91331
  Gates open at 11
The Green Together Collaborative is an innovative alliance between eight public and private partners - Community Partners, Pacoima Beautiful, Grid Alternatives Greater Los Angeles, Los Angeles Business Council, The Trust for Public Land, LA DOT, LA Conservation Corp, and the UCLA Luskin Center for Innovation – that works directly with Pacoima and Sun Valley residents to build a safe, healthy, socially inclusive/equitable, climate-resilient community. Supported by California Strategic Growth Council's Transformative Climate Communities Program with a $23m grant from California Climate Investments – Cap-and Trade Dollars at Work, the Collaborative spearheads transformative projects and programs in the areas of energy efficiency, urban greening, and mobility.