Rocklin, located just outside Sacramento, CA is named one of the top 50 places in the nation to live. However, it has seen an increase in the cost of living and housing market as a result of influx of new residents. The Rolling Oaks Apartments, located in Rocklin Offers 79 safe and secure one-bedroom units for seniors over the age of 62 with limited incomes. The apartments are owned by Volunteers of America, and is the meeting place for the senior nutrition lunch program sponsored by the Area 4 Council on Aging.
To take advantage of the available California Solar on Multifamily Affordable Housing program and curb the rising costs of energy, GRID Alternatives was contracted by Volunteers of America to install solar on Rolling Oaks. GRID's HQ commercial team worked on project development for about one year, which included securing the SOMAH rebate and a low-cost bridge loan from Left Coast Fund - a Vanguard Charitable Donor Advised Fund. Our HQ design team was able to land on an efficient layout and design for the two story high building. The final system size is 115.9 kW. The design includes 305 Trina modules, 154 SolarEdge inverters, and a 'Snapnrack' racking system. The expected annual output is 168,100kWh. 
Before solar could be installed, the entire roof needed to be replaced as it was 25 years old and was not ready for solar. Volunteers of America hired Roof Recover to install a new roof. Once the roof was replaced, GRID was able to begin the installation. The project is currently being installed by the GRID North Valley team, while the GRID HQ Commercial team manages it. 
The North Valley team started installing on August 22, 2022. Due to the dangerous air quality from the Mosquito wildfire smoke, the North Valley team had to put the project on pause for one week. Although this set back was not anticipated, the project is estimated to still be completed by the end of 2022.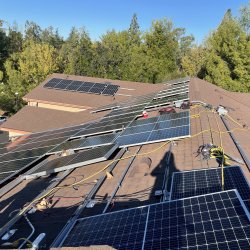 At GRID, we envision a rapid, equitable transition to a world powered by renewable energy that benefits everyone. We are proud to be a part of projects like Rolling Oaks.
For more information on our multifamily affordable housing work, contact:
 Shamir Chauhan
Director of Multifamily Development
multifamily@gridalternatives.org
Tel: 510-731-1318