Starting a new year, GRID Alternatives Central Coast is looking back on the wonderful work we've accomplished in 2015…A New office opening, 123 systems installed, 17 job trainees hired in the Clean Energy sector, and bringing more and more solar to the Central Coast residents who need it most! We are so grateful to all our supporters and we definitely couldn't do it without YOU!
2015 was a year of great progress and change on the Central Coast! We are pleased to announce our new Regional Director, Justin Hitchcock, has taken the reins and is leading us into a bright new year in 2016. His amazing energy and passion for solar really has us charged up as we continue our mission to make renewable energy technology and job training accessible to underserved communities.
Under Justin's guidance, we are excited to announce we have opened a second Central Coast office in the northern part of our territory in Salinas. Our Salinas office, located at 246 Abbott Street, is staffed with two construction crews and will help us more easily reach low income residents throughout the Salinas Valley and in Santa Cruz and San Benito County. This hard working, knowledgeable team led us to complete 10 projects in partnership with a grant from Monterey County and City of Salinas as well as over 90 installs throughout the Salinas Valley. A huge thank you to our incredible Northern staff: Dave, Kaly, Pedro, Clarita, Eric, Lisa and Danny. Your hard work is tremendously valued and appreciated.
In the Southern part of our territory, our team completed 21 solar installs in Santa Barbara and San Luis Obispo County. We had an incredible Solarthon event in Los Alamos in October where we installed solar on 5 homes in partnership with Peoples' Self Help Housing, among other generous sponsors. Also in the South, GRID CC enjoyed participation at the Community Environmental Council's Earth Day event in April, were a featured speaker at the Central Coast Sustainability Summit at UCSB in October, and completed a 2-home Veteran's install in Paso Robles on Veteran's Day. We engaged over 50 Cal Poly students, guest lectured a fall term Photovoltaics course at Cal Poly, employed 6 at-risk high school student interns, and made some amazing progress engaging community members in our Workforce Development initiatives: Troops to Solar, Students for Solar, Youth in Solar, and Women in Solar. We were also incredibly grateful for the support we received from local businesses Wiser Capital, BHE Renewables and Rabobank as well as national sponsorships from Wells Fargo, PG&E, SunPower, SunEdison, Sunrun, and NRG who all enjoyed participation in Central Coast solar installations. All in all, we completed corporate sponsored installations on 19 Central Coast homes and had fun interacting with all the wonderful participants, volunteers, job trainees, and fabulous clients we met. Thank you to our Southern team: Justin, Tori, Xavier, Melissa, Donovan, Carlos, Patrick, and Barby. Solarizing the Central Coast has been amazing in 2015!
Looking forward to 2016, we are excited to announce expansion into new territories to the east, strengthening partnerships with numerous local high schools for job training, exciting events coming throughout the Central Coast, increased partnerships and support from some wonderful local businesses and non-profits, and continued client engagement leading to solar savings for low income residents in need throughout the Central Coast! We can't thank our partners and supporters enough for all the love you've given GRID in 2015. You are all a valuable part of our GRID family here on the Central Coast and 2016 will not disappoint!
Please visit our website at www.gridalternatives.org/centralcoast for more information about our organization, progress towards our mission, view our annual report, or to make a tax deductible donation. Here at GRID CC, it's all about: People. Planet. Employment.
2015 IMPACTS:
GRID Alternatives

Central Coast

GRID Alternatives:

Organization-wide

123 solar systems installed

1,314 solar systems installed

373 kW installed

4,671 kW installed

$3,499,213 lifetime savings to clients

$42,354,516 lifetime savings to clients

7,199 tons of Greenhouse Gas prevented

91,235 tons of Greenhouse Gas prevented

1,375 cars off the road

17,425 cars off the road

446 volunteers trained in solar

5,837 volunteers trained in solar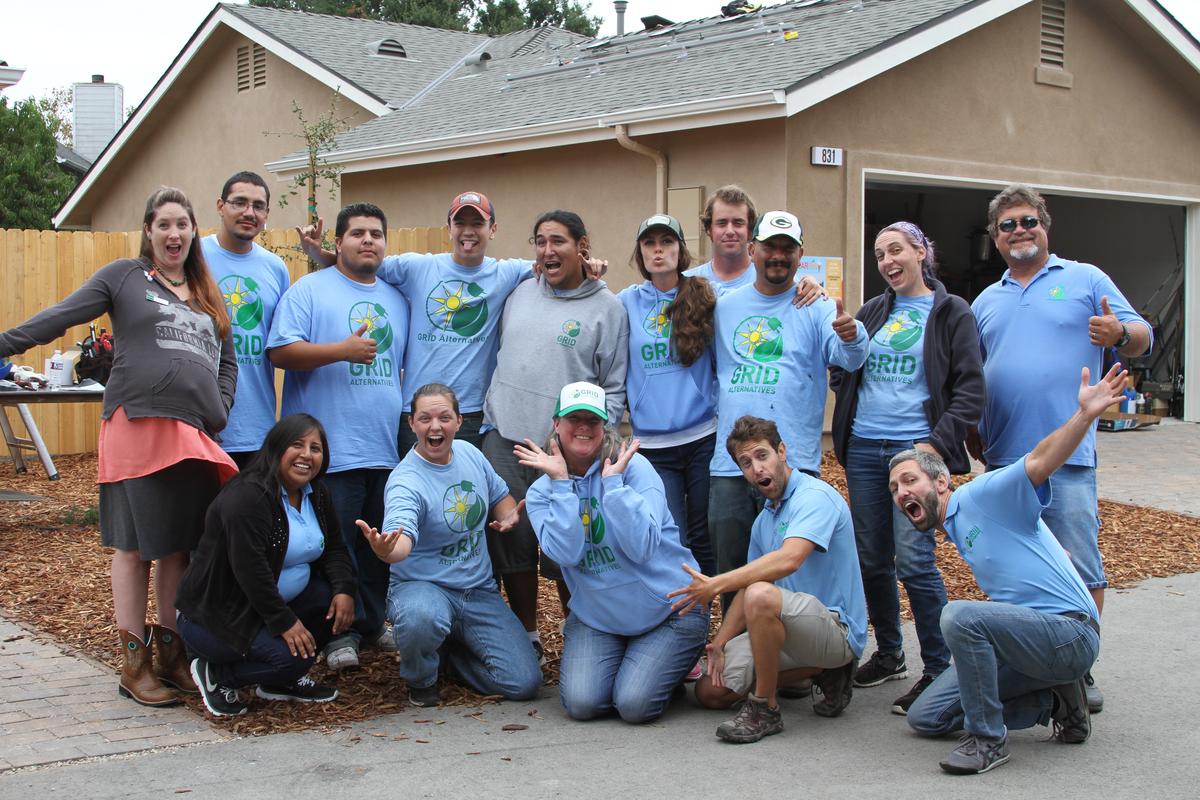 GRID CC Staff at Solarthon