Pueblo de San Ildefonso is located in Northern New Mexico, one of the sunniest places in America. Its traditional name, Po-woh-ge-oweenge, refers to the Rio Grande River and means "where the water cuts through." Of the Northern Pueblos, San Ildefonso is one of the most visited, welcoming over 20,000 visitors a year, many of whom come for its world famous black-on-black pottery. Still, like the other pueblos in this region, San Ildefonso remains small, private, and traditional.
During the second week of August, GRID Alternatives worked closely with the Northern Pueblos Housing Authority (NPHA) and San Ildefonso Housing Commissioner Tom Garcia to install a 3.7 kW solar electric system for tribal elder Virginia Tafoya. The system is the first solar PV system to be installed at the pueblo and will meet about 80 percent of Ms. Tafoya's electricity needs. The project is part of a three-home demonstration project with the Northern Pueblo supported by a grant from All Points North Foundation. At the time of install, Ms. Tafoya's home was also being rehabbed, including some energy efficient upgrades that could help the system offset an even larger percentage of her usage. Visible from the highway, the array serves as a solar billboard for Pueblo de San Ildefonso.
Commissioner Garcia said that he didn't know or think much about solar before GRID came, but now he appreciates its value to the pueblo as "good free energy." Mr. Garcia was among a handful of tribal members that came out to learn about solar and get hands-on experience during the project. One, William Christian, a non-practicing attorney who serves as the assistant to the tribe's governor, was intrigued by solar and interested in potentially installing some on his own home. "I think it's great what you do," he said. "Asking for volunteers is wonderful."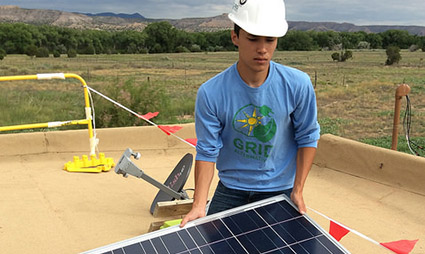 Another, Donald Peña, stood out for his enthusiasm and dedication to the project. Mr. Peña overcame a troubled history to become a tribal council member, and is using his past experiences to help others and give back to his community. He was excited to come out and learn how solar could benefit tribal members and further the tribes' goals for renewable energy. "Solar is a good energy resource," he said. "People can benefit from it by saving on their bills." The project, he said, was a great opportunity to get more tribal members educated and excited about solar.
See more photos from the project here.