Enphase has worked with GRID Alternatives as a philanthropic partner since 2010 and as a major national equipment partner since 2012. Throughout 2021, GRID has continued to use Enphase inverters on many of our solar installs. Thank you to Enphase for their partnership and continued support for GRID's mission.
One such install took place over at GRID's Bay Area office. In February, Pedro Hernandez, Bay Area Senior Solar Installation Supervisor, and his team worked on installing solar on a new townhouse in Daly City, California. The seven-family townhouse had been built in partnership with Habitat for Humanity volunteers. Altogether, the team installed 80 panels across the townhouse, which across the building will save its occupants approximately $34,000 across the systems' lifespans. This translates to a reduction of over 400 tons of greenhouse gas emissions over the systems' lifetime. Later that year, Pedro led another team to install solar on the Peace Gardens Housing Co-op in Oakland, California. They used the new Enphase IQ7 micro-inverters, and installed a total of 19 inverters on this building, which is expected to bring the clients a system net lifetime savings of $4,026 and would prevent approximately 83 tons of greenhouse gas emissions across the system lifespan. Over a grainy Zoom call, Pedro and Sabrina Salinas, a Bay Area Construction Assistant, shared some of the highlights and the challenges of these particular projects.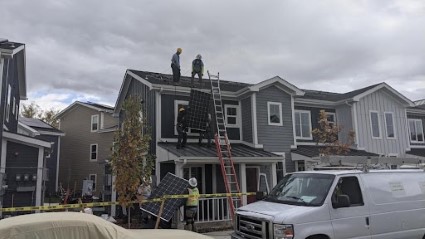 "Due to COVID, it was difficult to predict the timeline of projects. Many installs were canceled at the last minute, due to someone on the team testing positive. Sometimes clients would also notify us that they were not feeling well, and projects would also have to be postponed. In this way, working in the age of COVID requires us to be flexible and challenges us to demonstrate teamwork and to care for each other, now more than ever."
Speaking to their experience using Enphase micro-inverters on these installs, Pedro and Sabrina only had appreciable words to say. "We really like Enphase products because they are reliable. Their micro-inverters are installed separately for each [building] unit, and allows us to virtually check up on individual panels."
Sabrina adds, "Enphase customer service has been so good to us. They are quick to send out replacement [inverters] whenever needed, and I want to give a shout out to the fact that they are available 7 days a week to answer any questions over the phone."
Over at GRID Colorado, Shravan Joshi, a Residential Solar Installation Supervisor, had similar sentiments regarding his team's use of Enphase products. In December, he led an install on a Habitat for Humanity community in Palo Park. This community was unique in that every homeowner participated in the construction of their unit, alongside the Habitat for Humanity volunteers. 
"Enphase has been rolling out new products, and we are using their systems on all our residential projects now." Shravan says. "They allow for a super clean and easy installation. We monitor each panel virtually, and give the information to the clients as well, so they can track how their panels are doing and have a more active role in their own energy resources." 
"This past year was definitely challenging for our staff. Through teamwork and communicating, we make it work, and I want to give a big thanks to Enphase for making our job easier. They made a good, reliable product which allows our installations to be streamlined and efficient."