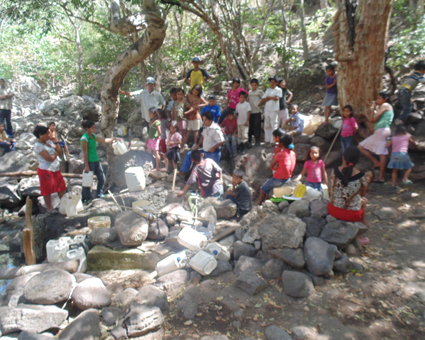 Los Chaguites is a rural community with no electricity in the department of Jinotega with 160 families (960 people). It is located up in northern Nicaragua, between the cloud forest and the dry area of Jinotega. Most of the people in Los Chaguites are indigenous with the last names of Blandon or Picado. Community members use candles, kerosene lamps and flashlights to light their homes. Kerosene lamps are not only expensive but also dangerous for indoor use. They are a fire hazard, and emit fumes that can cause chronic respiratory illnesses like asthma.
In June 2015, GRID Alternatives volunteers traveled to Los Chaguites and worked alongside local community members to install solar panels on the primary school. The school was built in 2008 by the Nicaraguan government and funds from the Japanese Aid Program. The absence of electricity in the community did not allow the teachers to fulfill the curriculum because they could not use videos and music which assist in teaching kids about traditional Nicaraguan music, dance, and culture. The primary school is attended by 120 children and there is currently no "secundaria" (high school) in the community.
GRID volunteers installed a battery-based photovoltaic system that provides lights and AC electricity for the school, bringing energy access and creating a safe place for community members to meet after dark. The PV system allows the school to serve as a central charging place for cell phones and other appliances that improve the quality of life in the community.
The community of Los Chaguites does not have a potable water system, so residents have to haul water from a nearby water source to their homes. Los Chaguites esidents earn their living through agriculture, having jobs in the nearby city of Jinotega, and through other informal jobs available in the area.