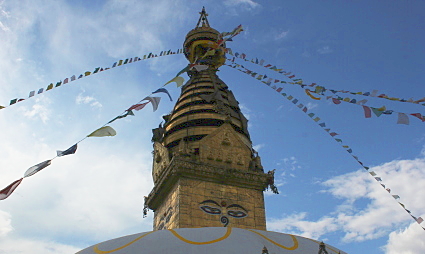 In May 2017, GRID travelers worked alongside Nepali solar company Gham Power to install a 3.78kW off-grid solar-powered grain mill to improve local agroprocessing and income generation in the community of Jimling, Nepal while experiencing full immersion in rural Nepali life and culture.
Jimling community members are Chepang, an ethnic group indigenous to the Mahabharat mountain range of central Nepal. Over the past two or three generations, the Chepang have begun to slowly shift from a nomadic to a more settled lifestyle that relies increasingly upon subsistence agriculture.
The remote areas that are home to many Chepang communities lack access to electricity and are usually not accessible by roads. The village of Jimling is accessible by road during Nepal's dry season, and can only be accessed by foot during the rainy season. Nepal's severe topography poses many challenges for farming practices.
Agroprocessing is critical to daily life in Jimling since the rural community grows its own food. The main meal of the Chepang residents of Jimling is dhindo, made by grinding maize crops into a fine flour and combining it with boiling water. Currently, the grinding process is done using water mills located at the base of small rivers. However, these mills are located over a one hour walk from the Jimling community.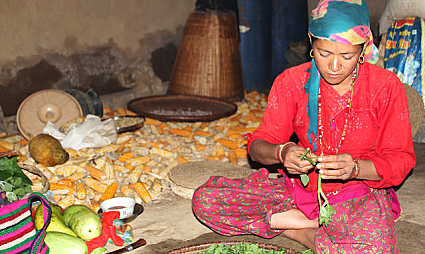 The grain processing is usually handled by women in the community, who spend a significant portion of their potential productive time transporting grains to the mills, completing the grinding process, and returning home at the end of the day. In addition to the time-intensive nature of the current milling process, the water mills are rendered useless during the winter when the rivers dry up, making it impossible for mills to operate year-round.
The solar-powered mill GRID participants installed makes it possible for community members to process higher volumes of grains with greater efficiency and convenience. The mill is accessible to approximately 100 households in Jimling and surrounding communities, who will now be able to hull and crush their grains mechanically, saving them valuable time. Residents can also charge their mobile phones locally using the power of the sun through AC power outlets that were installed on-site.
Click here to see photos from this project.