Gain hands-on solar installation experience through Solar Training Academy!
The solar industry is growing, with solar representing one out of every 100 jobs created in the US in 2017 according to the Solar Jobs Census. More than half of the jobs are in construction. But as an emerging industry, employers still report having difficulty finding people with skills, experience, and certifications. Since 2017, GRID Colorado has addressed these concerns directly in its Solar Training Academy. With a combination of classroom and hands-on training, this program will provide hard skills, soft skills, industry-recognized certifications, networking and job readiness, and eligibility for solar employment upon program completion.
The upcoming Grand Junction Solar Training Academy is a blended virtual learning and hands-on installation training program taking place over 7 weeks, starting with a week of virtual training beginning September 7th. All trainees will then get 6 weeks of PAID on-the-job training on a commercial solar installation in Grand Junction. Trainees will earn a training stipend at scheduled intervals. Due to COVID-19 safety protocol and site limitations, the Grand Juntion STA is limited to 5 trainees. Participants that complete the program will receive the following:
Solar and Construction Industry Certifications:
OSHA 10 (Valued at $250/person; Cost to trainee – FREE)
GRID Alternatives Installation Basics Training (IBT) certificates such as Racking, Module, and Microinverter Installation (depending on project availability)
Much of this training focuses on skills that are transferable to other sectors, including construction, electrical and mechanical trades.
Specific Skills and Training include:
Fall Protection
Job site, roof and electrical safety
Racking Installation
Mounting Installation
Microinverter Installation
Module Installation
Conduit Bending
Monitoring
Communication
Basic electrical layout and wiring (stripping wire, grounding and bonding, testing for voltage and current, etc.)
Hand-held and power-tool familiarity (tape measure, screwdrivers, wrench and torque-wrench, drill and impact driver, band saw, etc.)
Reading array layout, electrical one-line diagrams, roof and site plans
Soft skills, including professional conduct and personal reliability (working in a team, leading other team members, resume and cover-letter preparation)
GRID will provide follow-up support to connect individuals who complete the program with employment opportunities
Employment Opportunities:
Solar Construction Paid Installation Training with GRID ($600/ full week stipend - 7 weeks) - as a part of the Grand Junction STA
SolarCorps Construction Fellowship with GRID ($16/hr for 11+ months)
Solar positions with GRID partner employers (internships and permanent)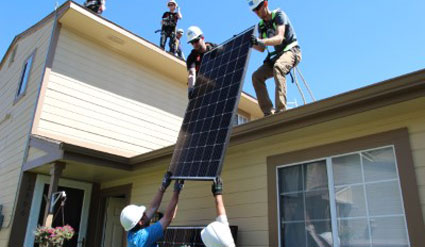 Program Dates:
Grand Junction cohort: September 7, 2021 - October 22, 2021
Want to apply?
Want to get involved? Fill out this online application to request a spot in the Grand Junction Fall 2021 Solar Training Academy! You must have access to internet and a computer as well as be able to get to the job site (located at 2424 US-50 Ste C in Grand Junction) to apply. If accepted, we will notify trainees via email and/or phone call.
Do you have any questions about the program? Reach out to our Workforce Team:
April Valdez (720) 452-5605 avaldez@gridalternatives.org
Brittany Heller (720) 943-5174 bheller@gridalternatives.org
Thanks to our partners for making this program possible!
Interested in learning more about past Solar Training Academy outcomes?
In Fall 2019, GRID Colorado contracted with Lotus Engineering and Sustainability to write a white paper regarding the outcomes of GRID's Denver-based Solar Training Academy program from 2017 to 2019. This included research into the trends of solar jobs in Colorado and the United States, interviews with past trainees, and an anlysis of all past reporting and records. The full report can be found here. A brief sumary can be found here.