Construction leapt into action when this week started, traveling to the portside community of Wilmington in Los Angeles' industrialized south. It's the home of an exciting new project in progress, which will allow a 31-kW commercial system paired with 40-kWH battery storage to go on the new roof of Los Angeles' Harbor senior center! We're very enthusiastic to be installing this no-cost system for a community space, backed with the key financial support of The 11th Hour Project, a program of The Schmidt Family Foundation, because of the inspiring clean energy potential and also because it's a welcome source of good in the Southland's most environmentally-disadvantaged neighborhood. (Roofing for this project was also made possible with a Solar Moonshot Program grant, managed by Hammond Climate Solutions on behalf of Left Coast Fund!)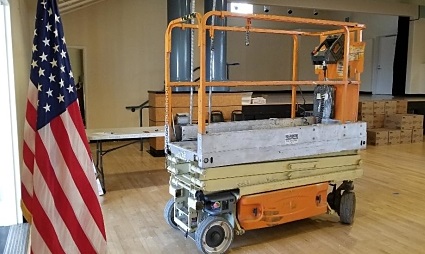 The Wilmington Senior Center, operated here for more two decades by Wilmington Jaycees Foundation staff, is hard at work seven days a week addressing community needs—particularly for those with vulnerabilities, including youth and particularly senior citizens. Locals depend on the facility's meal services, supportive activities, and biweekly participation in vaccination administration. All this good is taking place in an area that suffers disporportionately from fossil fuel activity, with thousands of tons of emissions spewed into the atmosphere from nearby port activities, and where quality of life is limited by pollution in important ways.
We think this community does better with clean support from the sun. By the time our system is installed, the staff here and those they serve will be able to enjoy significant bill savings from the limitless power of carbon-free energy. What's more, a battery fallback system housed inside the space's rooms will charge on sunny days! If a hard-to-predict event were to knock out the local power grid, the Wilmington Senior Center will be in much better shape than it would be today: storage would kick in and provide two days of electrical power. This might even address desperate needs, like the demand to run medical equipment or power a water purification system.