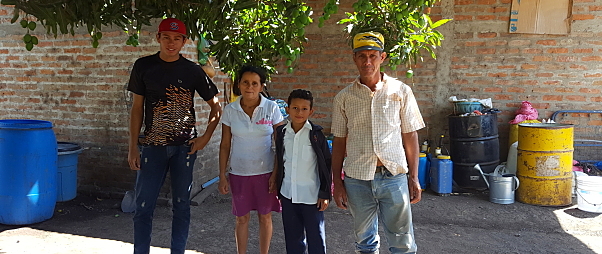 Andres and Mayra Chivarria live with their five sons in Colón, where they cultivate corn, beans, onions, sweet peppers and other vegetables on their family farm. Until now, the Chivarria family has used a gas-powered motor for irrigation, but because of the high costs of gasoline, they have been unable to sufficiently water all their crops during the dry season.
With the installation of a solar-powered water pump and a 5000 liter storage tank, the Chivarrias will now be able to instead harness the natural powers of sun and gravity to sufficiently water the entire extent of their farm fields, drip by drip. A solar photovoltaic (PV) system now powers the submerged water pump during the day to move water from a nearby river to the storage tank, and the water can be moved to the crops as needed by gravity. The PV system is a DC-direct stand-alone system with no batteries, which means no battery purchase, replacement or maintenance is necessary.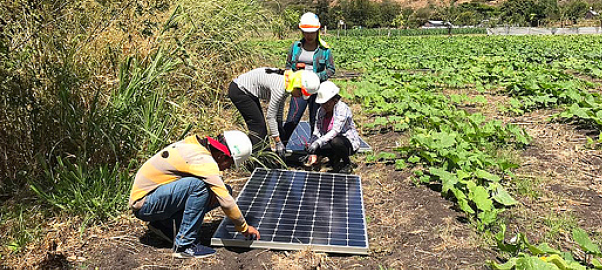 The family expects to not only enhance production of their existing crops, but plans to also diversify their production and grow new types of crops as well. With their new system, Mayra and Andres will save the money they currently spend on gas for their gas-powered irrigation system, and generate more income with the improved and expanded crop production. They hope to put the additional funds they earn towards education for their sons and improving their family's overall wellbeing. 
Alongside the Chivarria family and GRID staff, four Nicaraguan volunteers participated in the installation of the system, including renewable energy students and individuals interested in developing their knowledge of the solar energy field. This was the eighth solar-powered drip irrigation system that GRID has installed in Nicaragua, and the team was excited to bring clean energy and greater economic opportunities to the Chavarria family, in addition to greater food production and availability to the community of Colón. See photos from the installation!