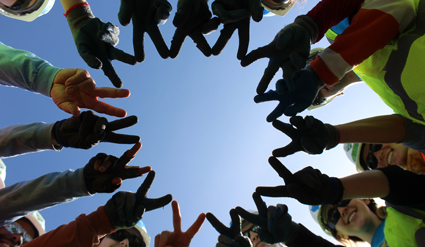 Applications are closed! Applications for 2021-22 is pending.
Apply to be a Student Leader today!
Deadline to apply is November 15, 2019 (noon PST/3pm ET).
Apply to be a Student Team Member today!
Deadline to apply is November 25, 2019 (noon PT/3pm ET).

Check some of the highlights from last season in this video!


Trip Date & Location:
Date and Location Pending
What is the Solar Spring Break Intercollegiate Team?
The Intercollegiate Team is a group of students from different colleges and universities across the country coming together to participate in Solar Spring Break! The experience will include everything a typical Solar Spring Break includes: 2 days of solar installation (weather permitting), 3 additional days of service-learning programming, and 5 nights of accommodation. The team will prepare together monthly using the Service-Learning Guide materials in the buildup to the trip. For more information on Solar Spring Break, see our Solar Spring Break Basics page.
How does it work?
Because space is limited, we ask you to complete our application process in order to join the team. We are looking for a diverse range of perspectives and backgrounds to make the experience richer for you and your teammates. If you are accepted into the team, you and your teammates will join up at a GRID regional office for a week of Solar Spring Break programming and solar installation. In the months leading up to the trip, you will coordinate fundraising and engage in service-learning programming together in preparation for Solar Spring Break. Afterwards, you will have the opportunity to reflect as a group on your experience.
Who can apply?
Student Participants: If you want to participate in Solar Spring Break but don't have the capacity to organize a team for your school, this may be the opportunity you are looking for. Any college student currently enrolled in an undergraduate or graduate program is eligible to apply. Email us at solarspringbreak@gridalternatives.org to learn more or Apply Now!
Student Leader: If you are a strong organizer and want to gain valuable professional experience, the student leader position may be right for you. One student will be selected for the role of Student Leader for the trip. If you are selected, you will be key in organizing the team and facilitating service-learning materials. You will also receive a $250 stipend towards your program fee and work closely with GRID staff. Student leader applications will open soon. Email us at solarspringbreak@gridalternatives.org to learn more or Apply Now!

All students will also be expected to identify a Faculty Advisor from their school to serve as a reference during the application process and provide them with support as needed. We will notify applicants of their acceptance status two weeks after the registration deadline.
For more information and description on roles, check out this file on what your role may be expected as a team leader, student participant and faculty advisor.
How much does it cost?
If you are selected for the program, you will need to submit a $50 nonrefundable deposit by the registration deadline to reserve your place. You will then have time leading up to your trip to fundraise the remaining $450 program fee. Additionally, you and your team will be responsible for organizing your own travel and meals. The Student Leader will help the team to coordinate travel and fundraising with the support of GRID staff.
Read our Payment Policy here. If you have any questions, feel free to send us an email at solarspringbreak@gridalternatives.org.